Video: Victor Kamenyo, Ruth step out together for bar fun
Rapper Victor Kamenyo and Ruth Akoragye Angora were filmed having fun at Cash Bar in Entebbe. In videos shared on the bar's TikTok page, the duo is seen hugging each other while smiling.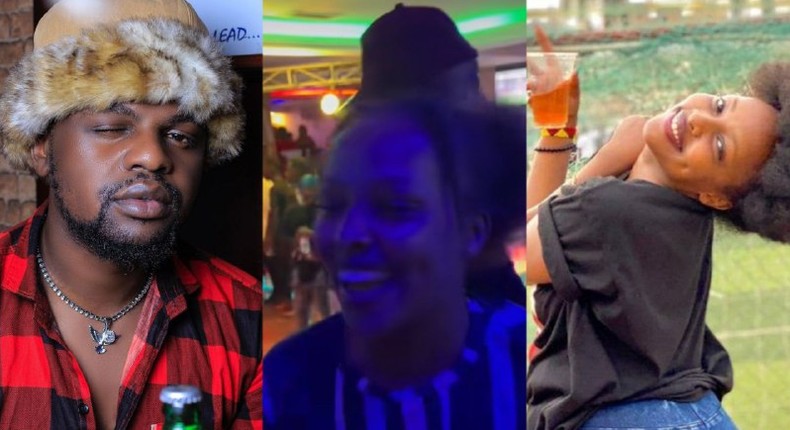 Kamenyo and Angora made the news for the whole of October after the former was accused of cheating.
In media interviews, Kamenyo said she found him flirting with a woman over WhatsApp and she got annoyed and stormed out of the house. The incident was filmed and the video went viral on social media.
Kamenyo pursued her to stop her because he felt she would do something to harm herself.
After the split, a lot happened between them, including the time she turned away his apology gifts.
Then they both declared that they do not plan to date each other again.
Kamenyo recently released a song titled Nakukyawa in which he sings about their breakup and Angora has been in the media telling him to remove her name from the song.
The Nduulu hitmaker had also said that he would take a different approach to dating, with beauty not being a lead factor.
"I'm no longer after figure, face, beauty, I want someone who thinks … I've discovered inner beauty is better than outside beauty," he said.
Meanwhile, fans who were concerned about what happened picked some valuable lessons.
TikTok user Argather#Rayz commented on the video: "Tnx[sic] Victor n [sic] Ruth 4 de [sic] lesson. [Next time] I will mind my business 😳😳😂😂"
Kyoshabire01 said: "Let me go and clean my toilets in peace, siliddamu kweyogeza bitankwatako [I will never talk about what doesn't concern me.]😂😂😂😂😂"
April Queen🥰 wrote: "From today onwards let me learn to mind my own business 😂😂 [I] am no longer a Tiktok in-law😂😂"
User934013416370 said: "Mission done 😩😩🤧🤧😂😌…🙄🤔😂… lean how to focus on mopping the floor .😂😂😂😂✋🚶"
Pulse Live Uganda
Bethy kay said: "By the time media in-laws were judging, [these people] were together since day one. They have never separated🤣🤣🤣"
Some people had earlier anticipated that the breakup was a stunt to help Kamenyo get media attention for his recently concluded concert, though this reporter couldn't independently verify if they have rekindled their romance.
Eyewitness? Submit your stories now via social or:
Email: news@pulse.ug
Recommended articles
Masaka Kids earn Shs5 billion from YouTube
Video: Triplets Ghetto Kids meet Kylian Mbappé
Shakib shares cryptic post days after Zari's
Spice Diana, Roger under fire as Sheebah, Bafana, netizens speak on arrest of Ritah Dancehall
Precious Remmie breaks silence as breakup rumours continue to swirl
Precious Remmie reveals lie she told Bindeeba amidst breakup rumours
Ritah Dancehall arrested over defaming Spice Diana
Pretty Nicole hangs out with Cephco, netizens caution her
Video: Netizens react as Besigye, Winnie show off amazing dance moves