UFC 281
Alex Pereira knocks out Israel Adesanya again
No more Nigerian champion, Just like Kamaru Usman, Adesanya loses UFC middleweight title to Alexsandro Pereira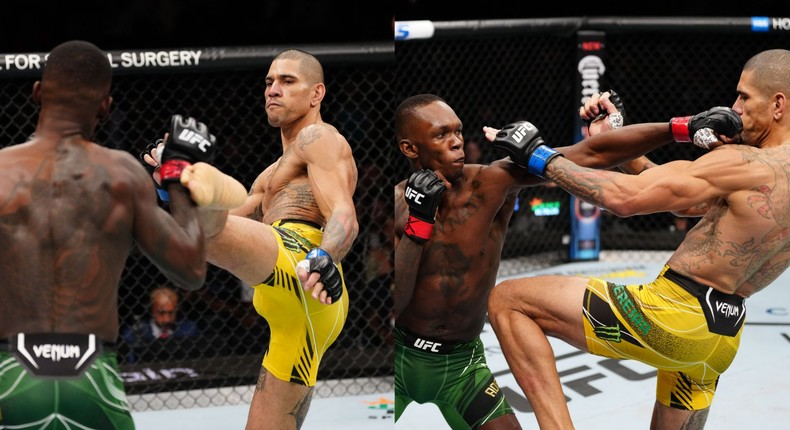 The 33-year-old Adesanya started the fight with cautiousness as he does however towards the end of the first round was able to get Pereira to respect his striking power.
Just before the end of the first round, Adesanya landed he huge shot that send Pereira to the ground but time was over.
In the second round, Pereira dominated Adesanya and landed the takedown to level the judges' score card.
In the third round, Adesanya would bounce back to take down Pereira for most of the round using the ground-and-pound technique.
Adesanya exerted himself in the third round pinning Pereira down landing punches from several directions.
In the fourth round, Pereira avoided going to the ground as Adesanya continued to go for the leg kicks.
Adesanya loses to Pereira in 5th round
Showing championship experience, Adesanya stepped on the gas with a few minutes left to win the round.
Just like his compatriot Kamaru Usman, Adesanya was leading three rounds to one going into the fifth.
Pereira's corner explained to him that he needs a knockout to win the fight.
Pulse Nigeria
Adesanya staggering after a leg kick showed exhaustion as Pereira continued to press his opponent to the corner.
With the aim of emptying the tank, Pereira charged Adesanya with force and started to unload heavy strikes.
Following several punches with no return, the referee called off the fight as Adesanya went to his knees upon an uppercut by Pereira.
It was a massive victory for Pereira as he becomes the new undisputed UFC Middleweight champion.
More from category
UFC 281

Alex Pereira knocks out Israel Adesanya again

UFC

Leon Edwards gave me a 20-minute nap – Kamaru Usman

UFC

Kamaru Usman explains why his 8-year-old daughter Samirah will keep coming to fights