Top 10 moments in politics 2022 (Pulse Picks)
Politics is a dirty game...but just how dirty did it get this year? Kenya Vs Uganda Twitter war almost became a real war, National Reistance Movement members ate dust, FDC made a come back and a Judicial Minister could not be helped as he was stabbed in the back by his own words?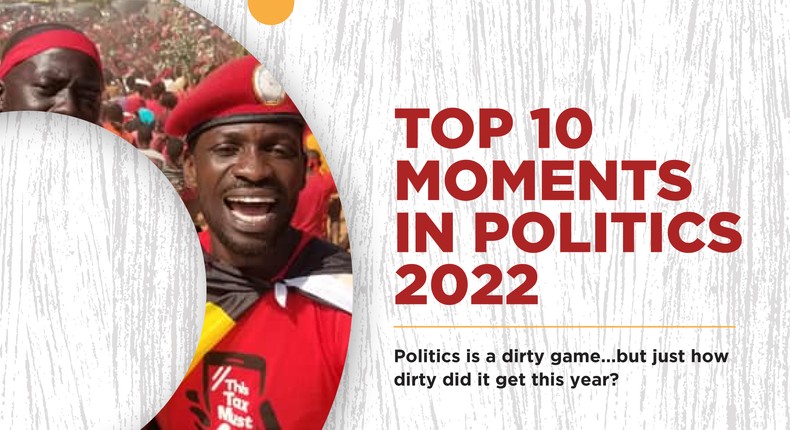 Here are 10 unforgettable moments in the political scene 2022.
1. What goes around. After 35 years of standing at the frontline of Uganda's movement, commanding respect and power, Museveni received his first command. His self-proclaimed "grand children" endorsed the President to return to the seat amidst praises of his visionary leadership.
2. The three musketeers. Leaders of two of the biggest opposition parties, Dr. Kizza Besigye former President of Forum for Democratic Change (FDC) and Robert Kyagulanyi of National Unity Platform, were put on a weighing scale by the Tweeting General Muhoozi Kainerugaba. In not so many words, he made his disdain for Kyagulanyi clear.
3. Kneecapped. 2021 Presidential seat contender Joseph Kabuleta decided to get serious with his political aspirations in October. He launched National Economic Empowerment Dialogue (NEED) as a political party with the aim of putting money in every Ugandan's pocket. At the start of December he was arrested for a speech he made earlier this year promoting sectarianism. His colleagues have threatened dire consequences for his arrest.
4. No dice. The Netherland Institute of Multiparty Democracy (NIMD) would not let FDC's and NUP's continued absence in the the Inter-Party Organisation Dialogue (IPOD) go unnoticed. The IPOD is set to lose financial support for this. However, it seems that it is going to take more than financial threats to convince the two parties to share a room with NRM.
5. Green and blue. When he was appointed Minister for Justice and Constitutional Affairs, the public marveled at Norbert Mao's supposed betrayal as an opposition leader. However, Mao told everyone to relax because that was what he intended to do, conduct a relaxed transition of power from NRM to...something. He got a surprise knife in the back when President Museveni denied ever discussing transition with him.
6. Avengers. The Forum for Democratic Change (FDC) National Unity Platform (NUP), Justice Forum (JEEMA), People's Progressive Party (PPP) and People's Front for Transition, joined forces to battle the NRM regime from all corners. FDC on the economic and legal front, NUP on the unity front, and so much more.
7. Rebirth. Forum for Democratic Change went back to the drawing board to make some change themselves. The fruits of their labour might start sprouting within four months.
8. Turntables. NRM's forgotten 200 stormed party offices to ask for their support allowance. The disgruntled group was feeling left out of the party while facing persecution from the public following their losses in the 2021 election period. They were threatening to join opposition.
In another twist, a two-some from the opposition joined NRM saying they wanted a taste of the order and vision of the yellow camp.
9. Father and son. No parent should have to bury their child, but in the midst of doing so, NRM stalwart Abdu Nadduli had be extracted from the burial when NRM members and NUP supporters broke out in a fight.
10. Dirty laundry. Executive Director of Uganda Media Center Ofwono Opondo lost his cool when Kampala Lord Mayor Erias Lukwago reminded him of an incident where the former killed someone. The altercation happened on during a live televised show where the two were debating. Physical violence was allegedly involved.
Eyewitness? Submit your stories now via social or:
Email: news@pulse.ug
Recommended articles
2 robbers killed in Police raid, 2 guns recovered
FDC Katonga faction announces dates for new delegates conference
Gov't denies blocking return of Dr. Kiyingi's body
Uganda set to host second Food and Security Symposium and Expo
Former LOP Ogenga Latigo Latigo injured in Nakasongola car crash
More women in Jinja are experiencing online gender based violence than in any other district
Museveni commends Education Ministry, Tayebwa over 2027 AFCON hosting rights
Ugandan manufacturers want imported barbed wire banned
Bobi Wine defends Barbie's 'controversial comments' in Canada