Video: Faridah Nakazibwe, Brielle dance to Ruger's 'Girlfriend'
TV presenter Faridah Nakazibwe brightened the mood of Brielle Kiggundu, who has been sick, as they danced to Ruger's hit song Girlfriend.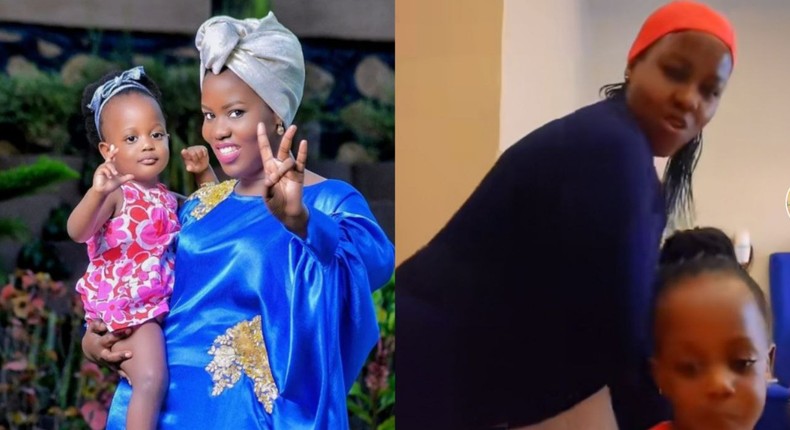 Brielle's father, Bruno K, recently revealed that she almost died from an overdose.
"Yesterday I almost lost my child because someone prescribed the wrong dosage for my child. She was vomiting a lot, so to control the vomiting they gave her 10[ml] of Plasil which is meant for an adult. My daughter started shaking continuously and having serious hallucinations," the singer posted on November 9.
"The next thing she stopped walking. We rushed her to Doctor Jamil, an expert in kids[;] that's where I was told that my daughter was given an overdose of Plasil. Dear parents that drug is very deadly and dangerous. The lesson I learnt out of [sic] this, [is] don't take your child to anyone."
He went on: "These kids have to be attended to by paeds [paeditricians] coz [sic] they understand them well. My child is recovering well but I shared this information so that parents can learn from it."
Nakazibwe started staying with Brielle after her mother, Rachael Nasasira, suffered a long-term health condition. She died in December 2021.
"Bruno became my friend promising he's going to sing a song titled Faridah. We became friends when he needed help with a child. Young man. He is single. When he told me my baby mama is sick and they are going to give me my child to stay with her. I asked him, what are you going to do with the kid? Are you going to live with her in your situation? You have nowhere to start from, you may not even know how to cook. bring her here," Nakazibwe said in an interview.
Pulse
"When they brought the baby, she is so sweet, very adorable. My children liked her a lot, I liked her. She heard by kids calling me mummy and she also started calling me mummy... so, when the mother died, she now knows me as mummy."
Nakazibwe has two daughters.
Eyewitness? Submit your stories now via social or:
Email: news@pulse.ug
Recommended articles
Meet your celeb: Who is Faridah Nakazibwe?
Afrigo Band stranded at airport in Turkey
Angella Katatumba: How I met my ex-husband
Faridah Nakazibwe 'leaves NTV ' after 17 years
Kasita, Feffe Bussi brave tough questions on romance ahead of Dubai concert
Matatu Film Stage, a short movie celebration
List: Nyege Nyege rolls out stellar lineup of performers
Uganda's Sina Tsegazeab scoops prestigious award in Kenya
Cindy hails Bobi Wine, speaks out on big-three battle prospects