MC Kats explodes at Swangz CEO for hurting his feelings
Popular television personality seems to have a bone to pick with Swangz Avenue Chief Executive Officer, Julius Kyazze, for hurting his feelings.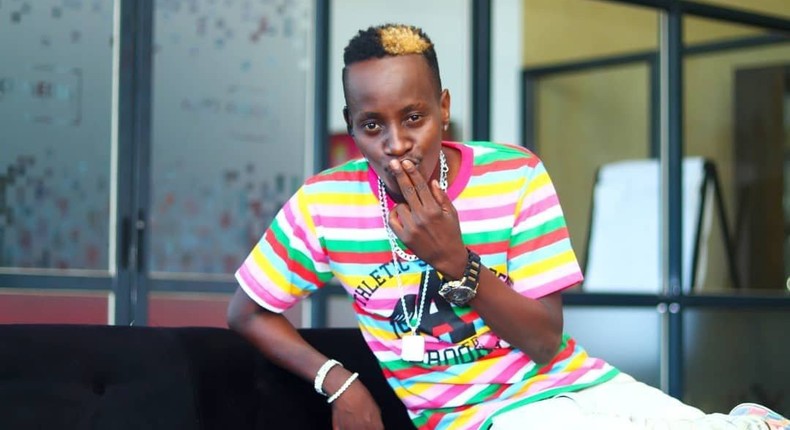 MC Kats made these revelations while appearing on Urban Television show, Rush Hour, that is hosted by Miles Rwamiti.
In a clip that has since gone viral, MC Kats explodes into a tone of anguish over Swangz Avenue asking him for shs2.5 million to have Winnie Nwagi perform at his event which was supposed to help him further his now well-known cause against HIV.
In the clip, he asks whether for all the years they have maintained a relationship, he has ever asked for a favor.
He further asks Julius Kyazze whether he has ever gone to Swangz Avenue to ask him for a job.
"Julius have I ever come even to ask for a job in Swangz?" he asks.
In a burst of emotions, he cites Julius Kyazze's history as a dancer.
"If anyone knows Julius, he was a dancer," he discloses.
This was before breaking down into emotions to reveal that he was so hurt.
MC Kats seems to have a grudge with Julius Kyazze in what seems to be a futile effort to have Swangz Avenue artiste Winnie Nwagi perform at one of his HIV/AIDS endeavors.
In the interview, Kats takes pride in disseminating the message of HIV without a single NGO in the country.
He further notes that he has toured over six universities in one week.
"I am the only Ugandan human being who has got a radio presenter, a DJ, an artiste without pay to tell their fans about HIV," he notes.
Kats, notes that he gets stigma from different places including his children's school when he attends a visitation.
To his disappoint is that despite all of this, the Swangz Avenue CEO still asked him for 2.5 million yet they have been friends for a long time.
MC Kats publicly opened up about his HIV status and has since been an advocate about the prevention and spread of the disease.
While Julius Kyazze is yet to comment about Kats' allegations, the two have been close acquittances for a long time as MC Kats has been involved in various Swangz Avenue and Buzz events proceedings, businesses, Julius Kyazze owns.
JOIN OUR PULSE COMMUNITY!
Eyewitness? Submit your stories now via social or:
Email: news@pulse.ug
Recommended articles
Burna Boy sounds like a Jamaican in my song - Busta Rhymes
Tina Knowles says superstar daughter Beyonce not bleaching skin to be white
King Saha played for me 'Zakayo' before releasing it – Jose Chameleone
Pia Pounds names 4 female friends in entertainment industry
I met my father for the first time when I was 21 – Pia Pounds
I don't care – Lydia Jazmine breaks silence on Rema's controversial concert dates
I'm not a babysitter - Mr. Henrie claps back at Kenzo after calling him poor
Kenzo steps ahead of Cindy as he talks copyright with Museveni
Betty Nakibuuka on why Baby Gloria can't date yet