Internal Affairs Ministry on chasing Nwagi: 'We don't allow indecency'
The Ministry of Internal Affairs has confirmed that the singer Winnifred Nakanwagi alias Winnie Nwagi was chased from its premises because of indecent dressing.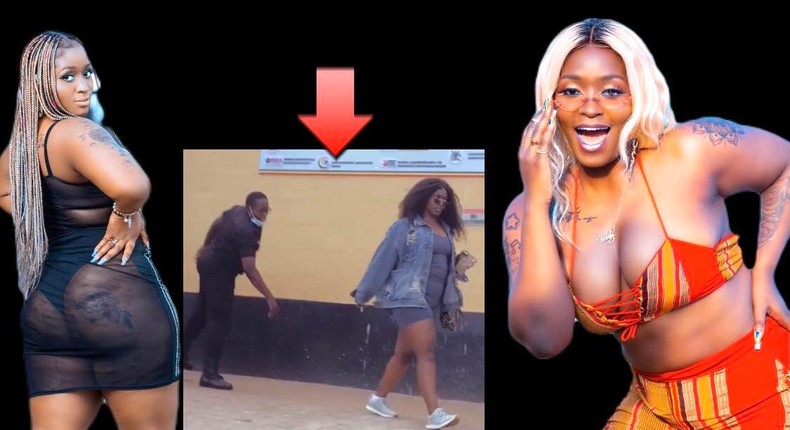 "Yeah that is very true," said the Ministry's Spokesperson Simon Mundeyi over a WhatsApp conversation with this reporter.
Today morning a video was obtained showing the 'Matala' singer being ejected from the ministry's compound with a female security guard yelling at her pointing at the biker shorts she was wearing.
Nwagi wore a ripped denim jacket on top and sneakers.
"We do not allow indecency at the ministry," Mundeyi said. "She came dressed in a very short bottom with a tattered blouse in total contravention of our dress policy."
Winnie Nwagi is set to hold her maiden concert at Lugogo Cricket Oval on September 9 and one wonders whether she's doing anything within her means to keep garnering media attention.
But it's also important to note that sultry dressing and salacious dancing have been her style ever since her music career picked up, endearing her to the male audience who are attracted to her busty body that's completed with shapely booty.
A video showing her performing indecently to students at St Mary's College Kisubi in 2019 informed the Ministry of Education and Sports' recent decision to ban secular musicians from performing in schools.
"It is also now clear that there have been several of these totally unacceptable and offensive functions allowed in schools in the name of extracurricular and entertainment activities," the ministry wrote in a letter to school administrators, citing the video which recently went viral on social media.
"If schools need to entertain themselves then they can engage in acting plays or arrange concerts. However, inviting singers who dance erotic dances, naked in the schools in the guise of extracurricular activities must be forbidden henceforth."
We were not able to immediately get a comment from the singer.
JOIN OUR PULSE COMMUNITY!
Eyewitness? Submit your stories now via social or:
Email: news@pulse.ug
Recommended articles
King Saha played for me 'Zakayo' before releasing it - Jose Chameleone
Pia Pounds names 4 female friends in entertainment industry
I met my father for the first time when I was 21 - Pia Pounds
I don't care - Lydia Jazmine breaks silence on Rema's controversial concert dates
I'm not a babysitter - Mr. Henrie claps back at Kenzo after calling him poor
Kenzo steps ahead of Cindy as he talks copyright with Museveni
Betty Nakibuuka on why Baby Gloria can't date yet
King Saha's reaction when Nakazibwe told him he sings like Mowzey Radio
'Pastor Bugembe is actively dating but very unlucky' - Brother