Is Jadon Sancho a "shadow" of his former self?
Over the weekend, the impressive performance of Anthony Elanga in the 2-2 draw with Aston Villa shed further light on the disappointing form of Jadon Sancho and team mate Marcus Rashford.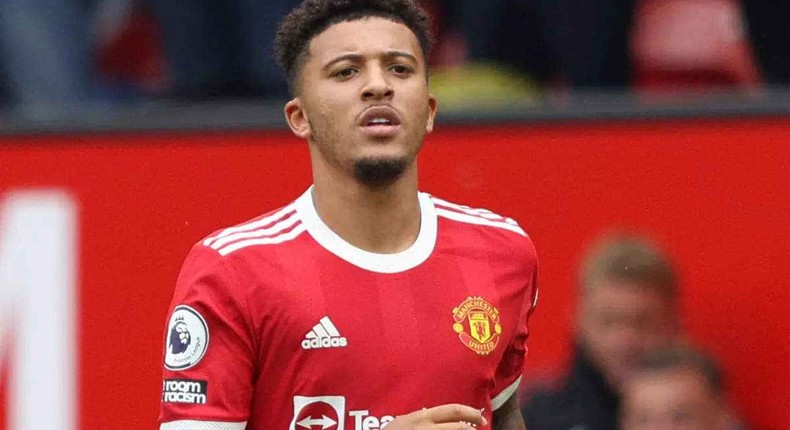 Sancho replaced Elanga with 12 minutes to play but made little impact whereas Rashford wasn't in the United squad.
"Jadon Sancho is a "shadow" of his former self and has a challenge to ignite his Manchester United career," said Jamie Redknapp,
While Roy Keane is worried for "lost" Marcus Rashford and wants the club to get to the bottom of his dramatic loss of form.
The two players' form was a discussion during the impressive start of the season for Anthony Elanga as Manchester United drew 2-2 with Aston Villa.
Elanga, aged 19, was selected ahead of Sancho, who cost United £73m in the summer and has only one Premier League goal this season.
Elanga looked so energetic and hardworking and United missed his influence when he was replaced by Sancho with 12 minutes to full time as Ralf Rangnick's side allowed a two-goal lead in the second half.
"Showed what I expected of him and why I decided to play him from the start" when asked whether the young Swedish star is now ahead of Sancho in the pecking order but added: "We've got so many games to play, I'm not thinking who is ahead of who," Rangnick said about Elanga.
Also, Redknapp feels Sancho now has a very difficult task of convincing the manager to pick him in front of the 19-year-old Elanga.
"Sancho has a massive challenge on," Redknapp said.
"He made an impact today when he came onto the pitch. When you come on, you hope to make a bit of magic but in this case, he's come on and the team has drawn 2-2 when he's supposed to be the player to help the team. he added.
Manchester United now sit in the 7th position of the English Premier League table with 32 points and two games in hand.
Part of story credit, Sky Sports
More from category
How Aaron Ramsey's Arsenal genes interfered to cost Rangers the final

Eintracht Frankfurt vs Rangers: Road to Seville - UEL final Preview

Liverpool keep quadruple hopes alive with thrilling comeback
Recommended articles
Interview: I advocate for educated sportsmen - Express CEO Mwesigwa speaks out on mixed fortunes at the club
Cheptegei, Peruth receive cash boost ahead of Commonwealth Games
Profitable 'loss': Why Man City will pay Aston Villa £15m for title win
How Aaron Ramsey's Arsenal genes interfered to cost Rangers the final
BUL FC hold off Booma FC to face Vipers in Uganda Cup Final
Uganda names squad for ICC Challenge League B tournament