Ugandans who were announced dead but 'miraculously resurrected'
Ugandans are often quick to announce the death of a public figure, especially when such a public figure is suspiciously absent from view.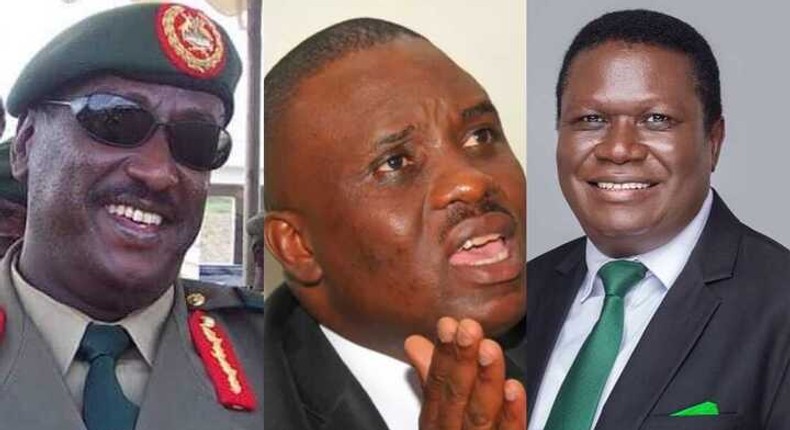 We look at several public figures who have been pronounced dead but are evidently alive and kicking.
General Salim Saleh
Salim Saleh is the National Coordinator of Operation Wealth Creation.
Ugandans had pronounced him dead over two months ago, to the merriment of his many enemies.
However, Saleh showed up to officiate at the giveaway ceremony of his daughter Esteri Kokundeka to her fiancé Ivan Muhoozi at his home in Buziga, Kampala, this weekend.
"I thank you Esteri for giving me this chance to resurrect. The devil is a big liar, we are still alive," Saleh said.
Rumours of the General's death were started by Ugandan vlogger Lumbuye who claimed that the Saleh had died and his body was being hidden by President Yoweri Museveni.
Norbert Mao
Mao is minister for Justice and Constitutional Affairs and currently serving as President of the Democratic Party, Uganda's oldest party.
In 2015, the Democratic Party boss was admitted to International Hospital Kampala. Early that year, Mao took leave from party activities.
"We have 40 leaders who will steer the party in my absence. My doctors have advised that I rest," Mao announced.
"I need to take a break for my own health and from the petty internal bickering and gain strength for bigger battles ahead of me to liberate Uganda," he explained.
After Mao was flown to Nairobi Hospital for severe chest pain treatment, the internet went wild announcing his death.
It took Mao's brother, Dusman Okee, to dispel the rumours and to this day, Mao is alive for all to see.
Pulse
Erias Lukwago
Lukwago is the Lord Mayor of Kampala, he was announced dead in 2021. A social media post read: "It is very sad! Lukwago has just passed away. Rest in peace."
Lukwago collapsed during a requiem mass to commemorate the life of the late Kampala Catholic Archbishop, Kizito Lwanga, at Rubaga Cathedral on April 5, 2021.
He was then airlifted to Kenya and was admitted to Nairobi Hospital, after which the grapevine exploded with news of his death.
Later it was discovered the he was diagnosed with acute anaphylaxis, which causes the immune system to release a flood of chemicals that can cause you to go into shock.
Pulse
Eyewitness? Submit your stories now via social or:
Email: news@pulse.ug
Recommended articles
We acknowledge the Constitutional ruling, Police say
12,000 students set to graduate from Kyambogo
How young medics were allegedly tricked to kneel before President Museveni
COVID-19: Police await guidelines new vaccination directives
Over 24,000 schools risk losing licenses
Museveni's inspirational speech for youth to love and care for country
MPs Ssegirinya, Ssewanyana case pushed to next year
Inside government's Revised National Policy on Persons with Disabilities (PWDs)
You must resign, UMA executive tells president