75,000 Ugandans living in UAE were trafficked there - Ministry of Internal Affairs
The Directorate of Citizenship and Immigration Control (DCIC) says that 75,000 out of over 100,000 Ugandans living in the United Arab Emirates (UAE) were trafficked to that region.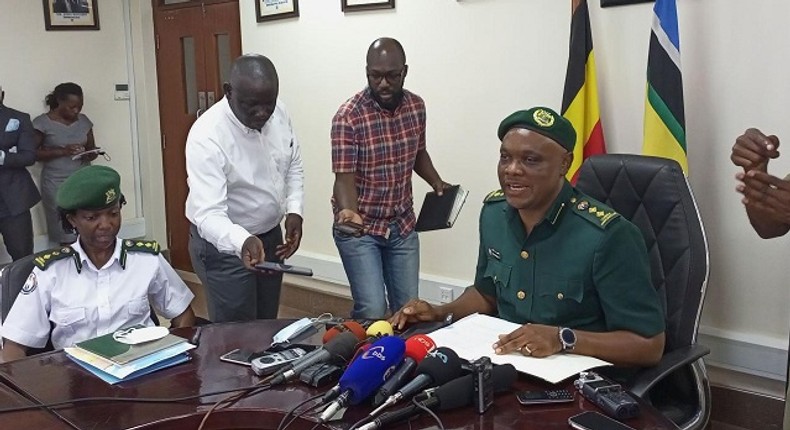 Simon Peter Mundeyi, the spokesperson Ministry of Internal Affairs, revealed this shocking state of affairs.
Mundeyi said several Ugandans are illegally housed in UAE from whence they are extracted to do odd jobs. He explained that socres of such Ugandans have ended up being arrested and jailed for illegally being in UAE.
Mundeyi blamed several Ponzi schemed companies for trafficking Ugandans, with the victims not going through the Ministry of Gender, Labour and Social Development, which registers and licenses labour exporters.
In what has become an issue of national concern. National Unity Platform (NUP) party president Robert Ssentamu Kyagulanyi, popularly known as Bobi Wine, mobilised resources to repatriate stranded Ugandans.
"There are still hundreds of Ugandans stuck in detention, while others are on the streets in the Middle East. Let's continue doing whatever we can to speak about their plight but also assist them in every way possible to return home," said Kyagulanyi.
By end of last week, NUP members and their associates had paid tickets and returned over 40 Ugandans. On Saturday, the government of UAE in conjunction with Uganda's foreign and internal affairs ministries returned 156 Ugandans.
"156 Ugandans have returned from UAE where they were staying illegally without working visas. They had over lived their visit or work visas. Others were lured by employment companies but they were going to get jobs," Mundeyi said.
The government said UAE had amnestied over 1,500 Ugandans for being there illegally. Mundeyi said UAE also paid air tickets for their repatriation.
Eyewitness? Submit your stories now via social or:
Email: news@pulse.ug
Recommended articles
Jesus animated movie launched in Uganda
Lukwago furious as Muhoozi tours Kampala roads
Mityana cleric, Fr Lawrence Mudduse dies in car crash
Minister Musenero gives shoutout to Bobi Wine as his Askari rakes in KIU diploma
Former Minister Nyombi Tembo replaces Irene Kaggwa as UCC boss
Former VP Kazibwe bemoans 'lost generation' of female leaders bleaching their skins
Worry as 3 medical students die in 2 weeks
Busoga to give accountability for royal wedding contributions
Bank of Uganda bans banknote gifts