Weasel's mother says Sandra Teta knows what she wants
The mother of Douglas Lwanga alias Weasel Manizo has said her son's wife, Sandra Teta, knows what she wants so she shouldn't be treated like a helpless victim.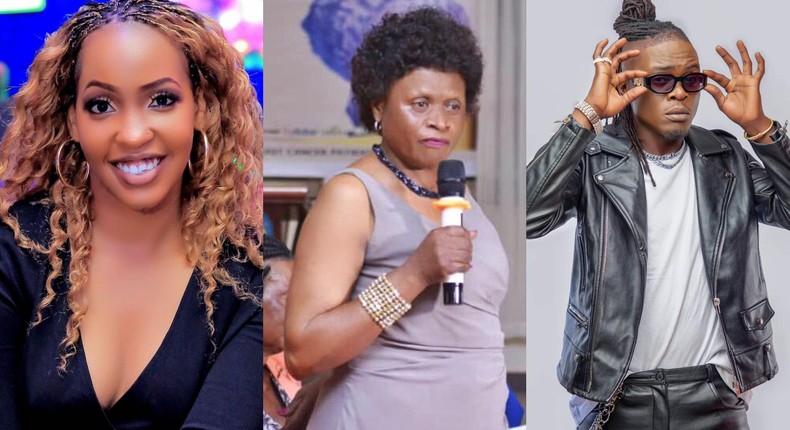 "Sandra is mature, and she knows what she wants," Weasel's mother, Proscovia Musoka, said in an interview with Sanyuka TV.
According to her, their domestic violence saga is sweeping through the media because her son is a celebrity.
"It is because my son is a celebrity that is why when they have misunderstandings as a couple, the world will know," she said.
Her comments come hot on the heels of Daniella Atim's Instagram post in which she revealed that her mother-in-law has always sided with sons all the time they (daughters-in-law) complained to her. [Atim is married to singer Joseph Mayanja aka Jose Chameleone, Weasel's elder brother.]
"Dear mother-in-law, you and I know this is Sandra's head after stitches. This one time she had courage and reported to police with the encouragement of some of her friends who include @maamaghetto [singer Buchaman's wife] .But you dear mama talked her out of it. You talked her out of it and told her she can't do that to the father of her kids," she posted, captioning a picture showing a stitched head that she said belongs to Teta.
"You see, when we love your boys, we become your children too and we yearn that you protect us as equally as you protect your boys. We hope that you can have honest conversations with your boys."
According to Atim, instead of her mother-in-law advising her sons, she always tells the daughters-in-law to "figure out what angers and pleases their husbands."
"You should also know that your husband is a celeb," Musoke usually tells them, according to Atim.
She said it's time for the mother-in-law to realise that her approach is not helping.
"Dear mama, this doesn't bring any practical solutions. It only empowers them to keep up what they do because in your eyes it is always the woman's fault… 'She must have provoked him etc. etc.'. You always say," she wrote.
"Dear mama, the time is now. Take back your position as a parent and start doing the work. We have the most impact on our children, a duty entrusted to us by God. I will be panel beating them from this side as you start the most immediate work. You have the authority to do it. Don't undermine the power God handed you. Let's raise a generation of great husbands and fathers. You will be glad we put in the work."
Atim, who herself has been a victim of domestic violence, has vowed to keep pressuring the family until they take action.
Her social media activism has garnered her plaudits from celebrities who throng the comment section to share their stories or encourage her to keep pushing the anti-domestic violence message.
"You are quite a Gem of Gods glory and voice. @daniellaatim I applaud you for this great job and openness . May the concerned parties not feel attacked or offended but see the truth and better side of your fight. You deserve a crown 👸 may God continue to use you," wrote the songstress Desire Luzinda in the comment section.
Pulse
Others that have hailed her work include radio personality Lucky Mbabazi, socialite Judith Heard, singer Leila Kayondo.
Get our Top Stories delivered to your inbox
Eyewitness? Submit your stories now via social or:
Email: news@pulse.ug
Recommended articles
'Don't claim you love someone if you haven't done this for them'
'I inspire big women… no one can stop me' - Winnie Nwagi
Nick Cannon welcomes his 10th child, weeks before his 11th is due
Women failed to accept men have weakness for beautiful girls - Kamenyo
My ex-lover made me abstain until I met pastor Bugingo - Susan Makula
'Stalker' drives car into singer Chris Brown's home, crashes Tesla
'Nicki Minaj is broke like, broke broke,' says rapper Azealia Banks
Ronald Alimpa accident: Bobi Wine mourns passing of Lady Grace, three others
Meet Don Andre, Uganda's fastest rising comedian