Desire Luzinda breaks silence on daughter's relationship with Chameleone's son
Songstress Desire Luzinda broke her silence following rumours that her daughter, Mitchelle Kaddu, is dating Jose Chameleone's son Abba Marcus Mayanja.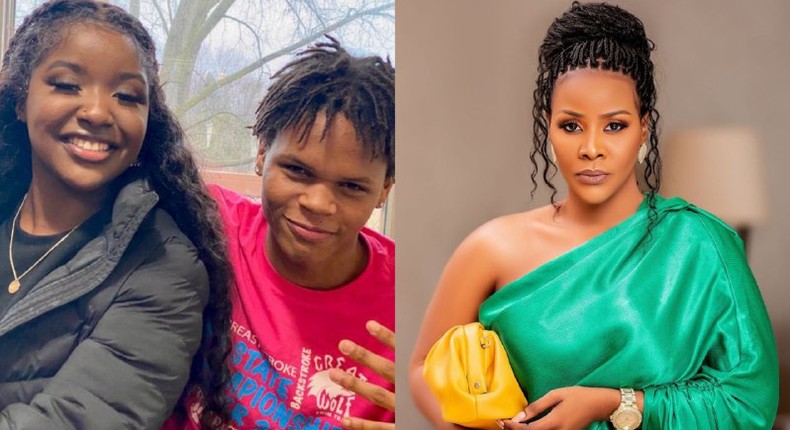 In September, a picture of Mayanja kissing Kaddu's lip made rounds on social media.
Luzinda and her daughter have been in California, USA for about five years and Chameleone also recently relocated his family to the same state.
Luzinda has various pictures of her daughter with Chameleone's children on Instagram.
Speaking on Kaddu's relationship with Mayanja, she said: "The kids are friends and I think we are in a society that looks too much into a boy-girl friendship. But we are in a modern society. There is no problem. You can have a male or female friend. So, there is no problem, and anyone out there claiming Mitchelle, it's entirely their opinion. Mitchelle knows nothing and I can't believe it, and I can't talk about it because it doesn't concern me."
The Ekitone singer flew into Uganda last week to perform at Levixone's concert that was held on Saturday, November 26.
She said that she was meant to arrive on Wednesday but she didn't depart as planned.
"My journey has been problematic, I think satan was trying to frustrate me. But I thank God that I came. I was looking forward to worshipping and I thank God that his blessings have manifested," she said.
"Actually I was to arrive on Wednesday. But we were told to get off the plane because it had mechanical problems, I slept there. Then I was put on another one that was to leave on Wednesday, and then we experienced some delays, so I decided to buy another ticket from a different airline."
Luzinda has also been said to be romantically involved with Levixone but both have neither denied nor confirmed the relationship.
Eyewitness? Submit your stories now via social or:
Email: news@pulse.ug
Recommended articles
Video: Kabako praises daughters for breaking family's first grade curse
I am going to miss Asia because she was my best friend- Charles
Zahara Totto tips Haffie on how to make the best of her romance with Lwasa
Boda man narrates how Jose Chameleone beat him
'Asia's last moments were extremely painful'
Video: Watch The Ben's wife Pamella dancing with this Ugandan TV host
Ex-VP Ssekandi, Nince Henry name their favourite songs by Mowzey Radio
Asia's mother narrates her sickness, celebrities mourn her passing
Bettinah blasts Daniella for laughing at Instagram post insulting her NYASH: I've lost respect for you