230 of Museveni's goats stolen in Karamoja
Armed warriors have made away with 230 goats distributed by the government to reformed cattle rustlers in Lotisan sub-county in Moroto district.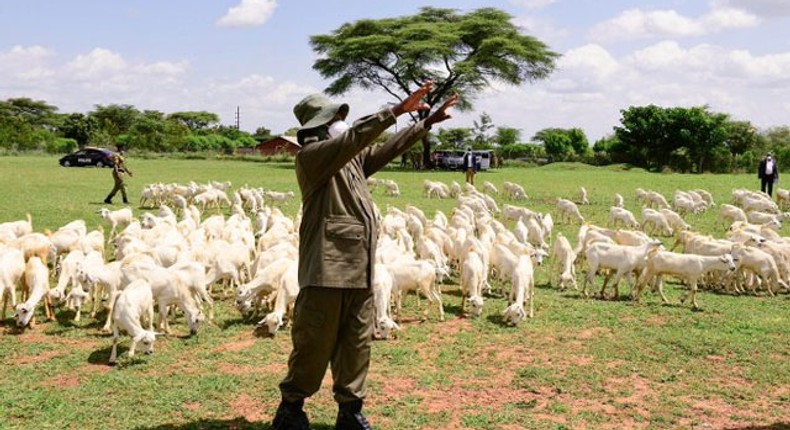 The reformed rustlers received the goats under the Improved Goat Project, an initiative of the Ministry of Karamoja Affairs.
The goal of the project is to distribute 71,550 goats to beneficiaries from the nine districts in the region, with each beneficiary receiving 16 Galla goats, 15 females and 1 male Galla Boer.
John Robert Adupa, the LCIII chairperson of the Lotisan sub-county, says 10 beneficiaries in his sub-county have allegedly lost their goats to thieving armed warriors.
He added that over 150 Galla goats, 80 local breeds, and 36 cows have been stolen between June and July this year.
Adupa says the security said it would recover the goats, but they have not made good on this promise of recovery.
He also reveals that some beneficiaries received sick goats and are thus spending more money on treating the animals than making economic sense out of them.
Admitting that restocking of livestock has failed, Adupa urges the government to drum up other means to improve the livelihoods of the ex-warriors.
Security leading to insecurity
James Onyanga, the LCIII chairperson of Morulem sub-county in Abim district, says that even with the ongoing cordon and search operations, cattle rustling still occurs in the manner it occurred before the use of said security measures. He believes that the restocking exercise only adds to this insecurity.
''You cannot continue restocking the community when the warriors are taking away the goats, it's a total waste of resources,'' Onyanga said.
President Yoweri Museveni launched the goat project in Moroto in June this year. At the time, Museveni acknowledged that the cattle rustlers would steal the goats from the community. He, however, said that he will never get tired of bringing more goats into the region.
Eyewitness? Submit your stories now via social or:
Email: news@pulse.ug
Recommended Articles
Uganda's president fights against a credit tradition instigating increased suicides in the country
Banking industry sets out to reward green financing: How to participate
Buganda Kingdom to take a 2 million stake in Airtel Uganda
Next Com: Celebrating Uganda and inspiring hope through Let's TakeOff 23
Top 10 African countries with the highest crime rates
Uganda's informal sector to receive massive boost from new business registry campaign
Top 10 most rewarding African countries to do business in 2023
Chinese lending to Africa remains below $2 billion second time in a row
NSSF eyes remittances from Ugandan illegal immigrants