15 signs you are a biker at heart
Test your personality in this quiz to tell if you are a biker at heart or not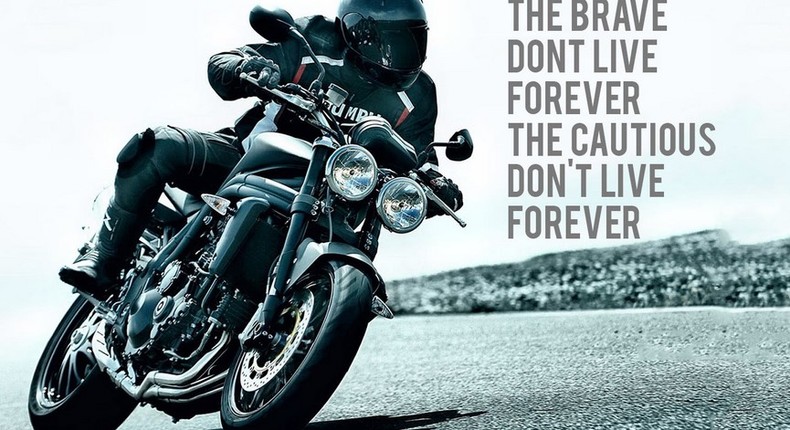 When you see a parked big bike you feel a temptation to stop just to admire it
When you hear of a motorcycle accident you swear you will never ride a motorcycle
When you see a good biker's jacket, you wanna buy just so you can have that look
The louder the bike's exhaust pipes, the more excited you get
You think of bikers as dangerous and shady
You think bikes are too expensive for no good reason because you are exposed to the elements while riding
The more rugged and dangerous-looking the bike is, the more it gets your heart beating
You have watched and enjoyed the TV drama, Sons of Anarchy
You love girls who are brave enough to ride motorcycles
You are prepared to take risks just for a chance to feel the thrill of the moment - like bungee jumping or rafting
You are willing to fight for your freedom even if it risks taking your security away
You automatically wave to passing bikers… When you're in your car
You're always disappointed when someone says they ride a "bike" but they really mean a bicycle
You'd pick a car guy to drop you home instead of bike guy
You call every bike a bodaboda
Get our Top Stories delivered to your inbox
Eyewitness? Submit your stories now via social or:
Email: news@pulse.ug
Recommended articles
'In Arteta we Trust' - Reactions as Arsenal crush Spurs in London Derby
'Don't claim you love someone if you haven't done this for them'
Our soldiers involved in the DRC helicopter accident are recovering well - Gen. Kainerugaba
Media body asks Museveni not to sign the Computer Misuse Bill
'I inspire big women… no one can stop me' - Winnie Nwagi
Nigeria to become the 3rd most populous country by 2050. What does this mean?
NBL Finals: Nam Blazers fight back to win game two, JKL Dolphins match on
Museveni commissions Shs20 billion plastic recycling factory in Matugga
Nick Cannon welcomes his 10th child, weeks before his 11th is due