Up your nyama choma by making your own BBQ Sauce at home
Barbeque sauce is often the only missing link between bland nyama choma and gourmet BBQ. It is often the differentiating factor between the not-so-good roasted meat you endure at your friend's party and the irresistible nyama choma you eat at a great restaurant.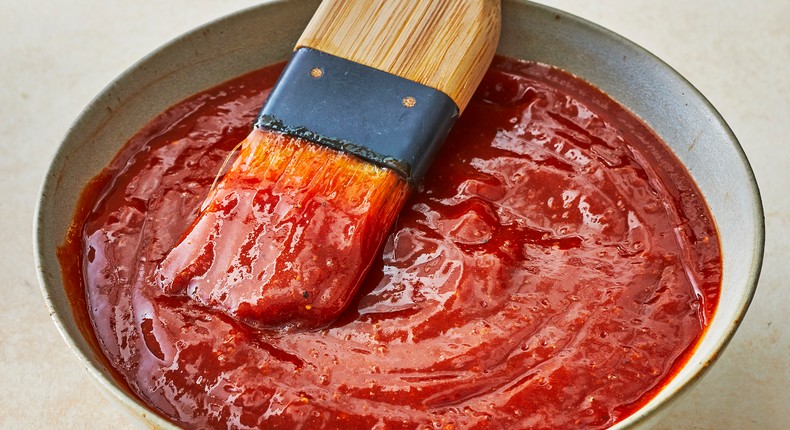 BBQ sauce is a spicy sauce that is usually eaten with barbecued food and it does make a huge difference.
Making your own at home comes together quickly with just a handful of ingredients that you can buy at the supermarket. Some of the ingredients that make BBQ sauces include vinegar, tomato paste or mayonnaise (or a combination) as a base, onion powder, spices such as mustard and black pepper, and sweeteners such as sugar.
To make this homemade BBQ Sauce, you'll need:
Ketchup – You'll use 2 cups of your favorite ketchup as the base in this recipe. I prefer to use one with the fewest ingredients and one that does not include high-fructose corn syrup.
Apple Cider Vinegar – the apple cider vinegar gives the sauce a delicious, tangy flavor that helps to balance it perfectly.
Brown Sugar – just ¼ cup of brown sugar not only helps sweeten the sauce but deepens the flavor adding just a hint of molasses flavour.
Honey – use a couple of tablespoons of your favourite honey. If you can find a reliable local honey provider!
Seasoning – you can make your own from salt, black pepper, and garlic that tastes amazing on so many dishes and adds flavour!
Lemon Juice – A tablespoon of fresh or bottled lemon juice adds just the perfect amount of acid to this sauce to make it perfect.
Hot Sauce – Add just a splash of hot sauce to this BBQ Sauce recipe but you may skip it if you hate hot stuff.
Final step
Cook the BBQ Sauce. Whisk together all of the ingredients in a medium saucepan over medium heat. Allow the sauce to bubble and then reduce the heat and allow it to simmer for 10 minutes. This helps to deepen the flavours and thicken the sauce.
You can use this sauce immediately on your BBQ, salads, or whatever.
Eyewitness? Submit your stories now via social or:
Email: news@pulse.ug
Recommended articles
7 awesome ways to represent your country when you travel
How to use chicken broth to make thick fish stew
How to become his queen
How do Muslims join Christians for Easter during Ramadan?
How to make this Botswanian meal that was only eaten by men
10 safety tips to protect social media accounts from hackers, according to ChatGPT
6 popular foods you should not buy a Muslim for Iftar
5 people who are not permitted to observe Ramadan
Christians' perspective on the meaning of Easter eggs