Faces and highlights from Koroga Festival (Photos)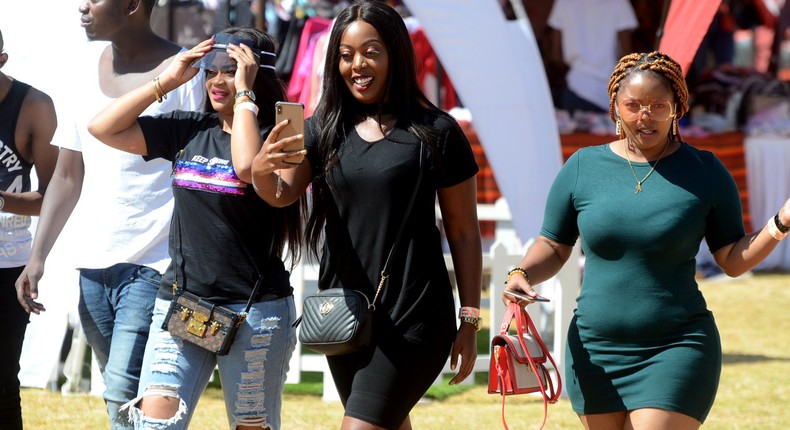 The 25th edition of Koroga Festival went down this past weekend at Leisure Garden's, Mamba Village.
The two-day event dubbed the ladies edition had an impressive artiste line up on Sunday, consisting of Phy, Fena Gitu and French Nigerian artiste, Asa, who is well known for her hit songs 'jailer' and 'fire on the mountain'. Phy and Fena did a great job of entertaining the crowd and Asa's set was the event's cherry on top. Asa not only displayed her impeccable and unparalleled vocal ability but also her outstanding stage command. She gave it all, performing a significant number of some of her songs and even played the guitar and trumpet. Her performance was filled with emotions, so much so that not only did she cry at one point, but also made some of her fans shed a tear or two – tears of happiness of course. Her personality was in full display when, in between her performance, she stopped to showcase her 'Swahili' speaking skills, giving us the "Niaje? Mko poa?" basics, to which the crowd happily responded to accordingly.
Pulse Live Kenya
Pulse Live Kenya
Pulse Live Kenya
Pulse Live Kenya
Overall, this time round, the event had more vendors, encompassing different food and drink vendors, clothes and even a kids play section. Revelers also got free rides to and from the event after downloading the Swivel app and what better way to give people value for their money than with free rides?
Have a look at some of the looks spotted at the event.
Pulse Live Kenya
Pulse Live Kenya
3. Who knew that Ankara umbrellas are a thing? Also, we love the matchy matchy looks.
Pulse Live Kenya
4. An appreciation of South African culture.
Pulse Live Kenya
5. Capital FM's Kui was in a bold fringed Ankara fit.
Pulse Live Kenya
6. This gent must have been really hot in that sweater but mustard sure does look great on him.
Pulse Live Kenya
7. Kaz was pretty in an Ankara off shoulder top paired with distressed jeans.
Pulse Live Kenya
8. How cute is this look though?
Pulse Live Kenya
9. Sis was totally slaying in her layered mullet Ankara skirt.
Pulse Live Kenya
10. Oh hey there Maasai man?
Pulse Live Kenya
11. We are totes digging that haircut.
Pulse Live Kenya
12. Berets are for the cold season though! Still, cute look.
Pulse Live Kenya
13. Understated yet stylish look of a simple Ankara top and shorts.
Pulse Live Kenya
14. Looks like statement tees are here to stay.
Pulse Live Kenya
15. Some positive vibes from this squad.
Pulse Live Kenya
Eyewitness? Submit your stories now via social or:
Email: news@pulse.ug
Recommended articles
Have you talked about these relationship-killers with bae? - Experts
10 extinct jobs you won't believe people worked
Why Ugandans don't like waking up on Monday
5 reasons you shouldn't rush to block your Ex after break up
6 ways to be an amazing boyfriend when your girl is on her period
10 rewarding activities parents/guardians can do with 'vacists'
5 hacks for when there's no interesting TV show/movie series to watch
5 questions we're afraid to ask relationship-abuse victims, survivors
10 PG-Rated reasons Ugandan men love 'nyash'