10 Fashion colour combos that will change your mind about clashing
When it comes to colour mixing, it's not a matter of why you should try it (it is awesome) it's a matter of when this trend will find you. And when it does, you might see your closet in a whole new light with ensembles you had not thought of before.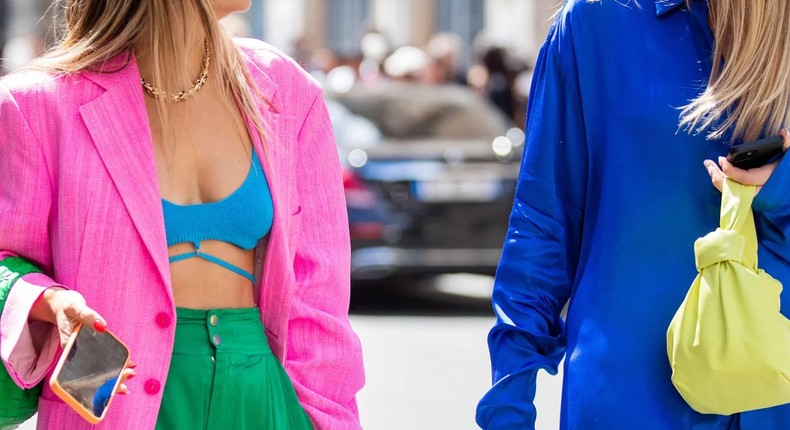 Here are ten colour 'combos' to try out:
1. Match neon with neutral
Assemble all your creams, beige, caramels and oatmeal shades for an upgrade look by mixing them with one or two apparels of neon. Neon is a highlighter that's guaranteed to make any fade or pale colour explode.
2. Mix equally deep tones
Pulse
Baby or even shocking pink and emerald green or mint is a big mood. The impact of this mix is that the depth of each colour is similar, do not mix a pale pink with deep green or vice versa.
3. Consistency with a colour
Pulse
Pick out your favourite colour or whichever colour you are feeling up to at the time and wear it from head to toe. This includes shoes, bag, and accessories. If you can pull off an all-orange outfit, extra points to you.
4. Go for less
Pulse
If bold colours are outside your comfort zone, there's no need to sacrifice comfort for a statement. Instead of starting with the outfit, let your brightness out in your accessories. A bright apple green bag on a background of a black chic ensemble can be a starting point. Let your shoes complement the bag if you can.
5. Unexpected mix
Pulse
Lemon and lavender are two souffle shades that make a surprise turn up together. Unlike classics like black or white, cream and brown, these two will get you a double-take because of their fresh and unexpected effect. More points if you can get a picture with a sunset background in this combo.
6. Breaking the rules
Pulse
Because of their proximity on the colour wheel, red and pink are traditionally a taboo mix. But we are going for unconventional and on the dark side you have to try it before you can trash it. These two make a cool clash, show off some skin to break them up and throw in a dash of lemon yellow.
7. Wear cold weather shades under the sun
Pulse
Chocolate might seem like a cold weather colour (probably because chocolate tea is the best way to warm up) but this colour has brought its warmth into sun weather. Mix it with pale citrus or other pale tones in your wardrobe.
8. Stand out in green shades
Pulse
Spearmint and mustard? Sign up for this backassward combo. Bottega Veneta fashion house is to blame for this leafy palate.
9. Assemble several similar shades
Pulse
There are no rules when it comes to combos, because even those that sound strange on paper, might surprise you in the mirror. Try lime, lilac, pink and orange in one ensemble. These pastels have a similar vigor so they work well together.
10. Dial it down
Pulse
Bring down the intensity of a warm bold colour with the help of a cool colour from the opposite end of the spectrum. A nice blue purse against a hot orange outfit. Add in pearly coloured flats for an increased calm effect.
Eyewitness? Submit your stories now via social or:
Email: news@pulse.ug
Recommended articles
6 best home remedies to clear ugly pores
7 body parts you must clean every day to avoid body odour
5 outfits for 5 days of work inspired by Phyna
I am open to love: Meet 123-year-old virgin in search of her Mr Right