A Pass uses these 5 natural body-boosting substances
A Pass shared five natural ingredients he uses that have serious body-boosting properties. He shared on his Instagram story saying "I love the natural stuff". In this article, we explore the uses and benefits of each ingredient.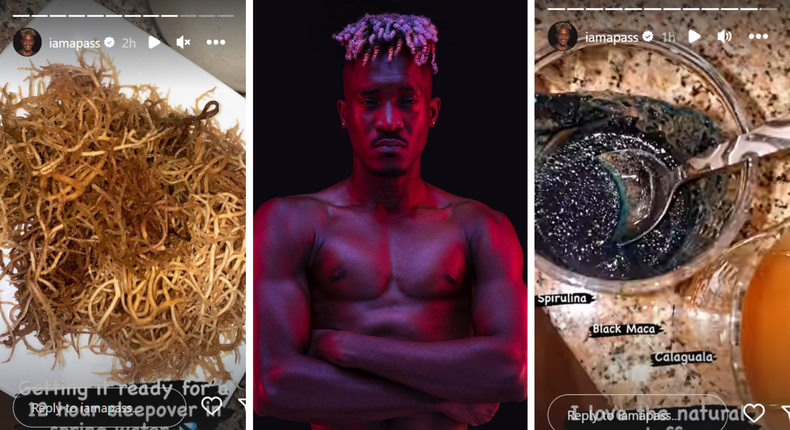 In the video, A Pass soaks sea moss in spring water. Spring water is a result of years of infiltration of rainwater through rocks and minerals in the ground. Although it takes years, the result is clean and pure spring water ready for drinking. It is a step above mineral water which may or may not come from spring water sometimes. Spring water, on the other hand, can only come from springs.
2. Sea moss
Pulse
Sea moss is a sundried species of red algae. It is mixed with spring water to make sea moss gel. Sea moss is a vegan, gluten-free source of about 92 nutrients such as vitamin B2. calcium, magnesium, iodine and zinc, among others. Sea moss boosts metabolism, helps with hair, skin, and nails, is great for digestion, improves libido, and is an excellent immune booster.
Wash it and then soak it in cold spring water for a full day, changing the water frequently.
It is ready to use when it has doubled in size and become white and gelatinous.
Once ready, put the sea moss and some water into a blender and blend until it becomes a thick, honey-coloured liquid. You can then store it in the fridge for up to 14 days and use it for various recipes and needs.
3. Spirulina
Pulse
Spirulina is a type of blue-green algae that is packed with nutrients and is often considered a superfood. Since the 1970s it has been sold in body supplements. You can find it in a capsule or powder form. It is a common ingredient in energy bars.
4. Black maca
Maca is in the same family as broccoli, cabbage, and kale. It is a superfood for men with numerous benefits that make it a powerhouse containing fibre, amino acids, vitamins, and minerals.
Pulse
5. Calaguala
Takeaway
These natural herbs and ingredients are excellent health boosters. However, consult a medical or health professional before integrating them into your wellness routine or diet.
Eyewitness? Submit your stories now via social or:
Email: news@pulse.ug
Recommended articles
5 signs your boyfriend hates you and wants to break up
When women don't wash their bras often, these 5 things happen
Fally bows out on a high at Kampala edition of his double concert
Pallaso takes pride in visit to Murchison Falls, makes risky gesture
It's dangerous to rest your legs on a car's dashboard, here's why
Chef Keletso shines as foodies infuse whisky with divine culinary treats
Vinka goes shooting: 5 benefits of shooting at a gun range
How to prepare for an easy week at work/school
Try this stuffed green pepper recipe instead of baking