Ugandans Embrace Domestic Tourism in #ExploreWest Campaign
The #ExploreWest tourism campaign, organised by the Ministry of Tourism and its partners, attracted a large number of locals.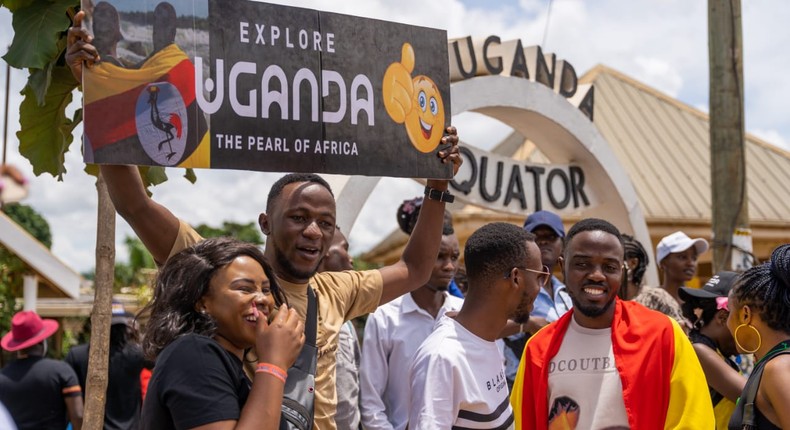 The campaign that kicked off on Wednesday, April 12, will run for 5 days until Sunday, April 16, 2023.
The campaign aimed to promote local tourism in Western Uganda, which is known for its natural beauty, diverse wildlife, and rich cultural heritage. It is also a bid to revamp tourism after the Covid 19 and Ebola catastrophes.
Martin Mugarra, the state minister for tourism earlier this week during the launch of the campaign said Ugandans have appreciated the country's tourism potential and are now traveling more than the foreigners.
"We believe if this trend continues defiantly, we will be able to sustain this sector," he said.
The trail caravan began in Kampala, stopping at various sites along the way, including Lake Mburo National Park and Igongo Cultural Centre.
Celebrities such as Moses Golola and Patrick Salvado entertained the crowds during the caravan. The campaign is part of Uganda's focus on domestic tourism due to the Covid-19 pandemic.
4d267d89-895e-436c-b43a-e1314aec40cd
The ministry plans to continue with the #ExploreNorthernUganda campaign before June, including a mini-hike of Mt. Rwenzori. The tour presents an excellent opportunity for locals to enjoy Uganda's beauty and transfer resources to the centers and communities.
Eyewitness? Submit your stories now via social or:
Email: news@pulse.ug
Recommended articles
Fally bows out on a high at Kampala edition of his double concert
Pallaso takes pride in visit to Murchison Falls, makes risky gesture
Chef Keletso shines as foodies infuse whisky with divine culinary treats
Vinka goes shooting: 5 benefits of shooting at a gun range
How to prepare for an easy week at work/school
Try this stuffed green pepper recipe instead of baking
How the slave trade birthed this Surma tribe beauty tradition
Everything to know about hair beads from Barbie's new hairstyle
How to wear red lipstick like a pro