2023 Uganda Film Festival: Here are the award winners
The Uganda Film Festival marked 10 years with an award ceremony in which different players in the film industry were recognised.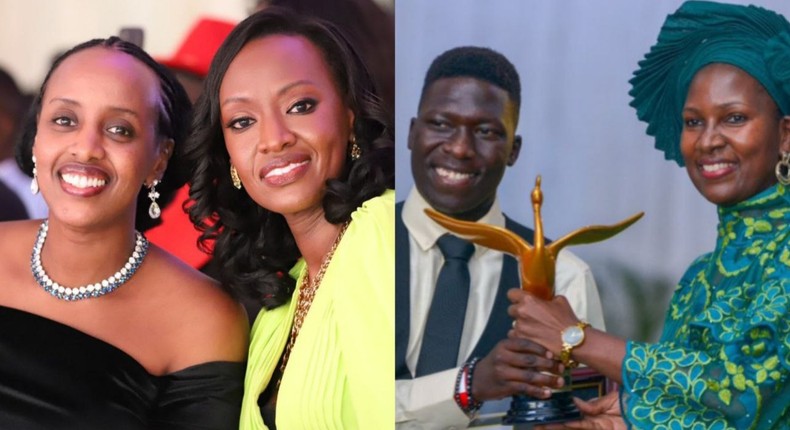 Musa Mwamba won the Best Supporting Actor in Feature Film award.
Mukisa was named the Best Feature Film at the 2023 Uganda Film Festival.
Florence Naiga won the award for Best Supporting Actress in a feature film.
Other winners are Geoffrey Kasozi (Best Director), Kitara Chronicles (Best Viewers Choice), Nana Kagga's Mukisa (Best Production Design), Kafacoh by Adnan Ssenkumba (Best Song Design), Isiko Abubaker & Daka Waira Emmanuel for The Passenger (Best Post-production/Editing), Hikmah Nabanja and Nakibuka of Kitara Chronicles (Best Makeup Artist), Diana Nabatanzi (Best Actress in TV Series) and Amon Nuwamanya for his role in Koja (Best Actor in Drama Series).
There is also Lost (Best Animation), Agramon (Best Short Film), Henry Katongole Nathan for his role in Passenger (Best Lead Actor in Feature Film), Tracy Kababito (Best Lead Actress), Silent Scream (Best Student Film), The Passenger (Best Post Production), Tale of our Times (Best Costume Designer), Akampene (Best Documentary).
Speaking at the event, the Executive Director of Uganda Communications Commission Eng. Irene Kaggwa said: "We are here celebrating not just film actors or directors but also all stakeholders who have contributed to the growth of film in Uganda."
The festival is organised by the Commission and the Uganda Film Festival Awards were started in 2013. Over 3000 films have been submitted to the Festival in the past 10 years.
Aminah Zawedde, the permanent secretary of the Ministry of ICT and National Guidance, said: "I am pleased to share the remarkable achievements of the Uganda Film Festival... [the festival] has made tremendous strides in addressing many of the challenges it initially set out to tackle."
Deputy Speaker of Parliament Thomas Tayebwa said: "We need locally made films to shape a narrative of a progressive and highly gifted country that can lean on creatives for transformation."
Airtel Uganda pledged more support to Uganda's Film industry through the Festival.
Amit Kapur, the Chief Commercial Officer at Airtel Uganda said, "Our promise to support Uganda's Creative Industry is in line our Sustainability agenda of Transforming Lives. Film is one of those ways through which young people are given A Reason to Imagine their dreams, possibilities, solutions to change their lives. Airtel Uganda will continue to provide support to realize such dreams."
Kapur added: "Airtel created the Airtel TV which is a channel accessible on Smartphones with a wide spectrum of local TV content. It is also a platform to showcase Ugandan talent to the world. These solutions among others enable our local artists to tap into Airtel as an enabler for growth on our countrywide 100% 4 G-enabled network and reach more audiences. We will continue to offer affordable Data plans and fibre solutions, without differentiation, to support the legal distribution of Ugandan films to all audiences."
The guest list also included President Yoweri Museveni's daughters Natasha Museveni, who is the co-founder of Isaiah60 Productions and Diana Museveni, who has invested in the tourism industry
There were also performances from musicians like Irene Ntale, Jowy Landa, Jose Chameleone and Vamos 256.
The Uganda Film Festival seeks to promote the local film industry and to bring all industry stakeholders together, as well as give a spotlight to the young Uganda Film & Video industry both locally and internationally.
Eyewitness? Submit your stories now via social or:
Email: news@pulse.ug
Recommended articles
Azawi's 'Sankofa' listening party: A musical delight
How Naava got the name 'Grey'
My father kicked me out of home when I chose to become a DJ - Rasta Rob
Azawi dedicates new song to Nakulabye man who broke her heart
Meet your celeb: Who is Faridah Nakazibwe?
Afrigo Band stranded at airport in Turkey
Angella Katatumba: How I met my ex-husband
Faridah Nakazibwe 'leaves NTV ' after 17 years
Kasita, Feffe Bussi brave tough questions on romance ahead of Dubai concert