Uganda Airlines to start direct flights to Rwanda
The Minister of Foreign Affairs, Jeje Odongo, has revealed that Uganda Airlines will start direct flights to Rwanda's capital, Kigali.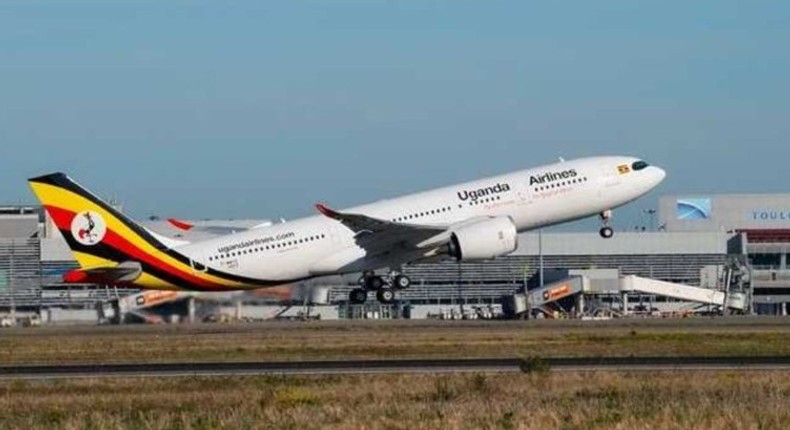 This was revealed during the conclusion of a two-day 11th Session of the Rwanda-Uganda Joint Permanent Commission (JPC) in Kigali.
The direct flights to Kigali will be the first ever since the Airline was revamped in 2019.
The revelation, according to JPC, has come as a result of continuous discussions between the two parties over time.
Uganda Airlines resumed commercial flights in 2019, targeting mostly regional destinations but efforts for the carrier to secure landing rights in Kigali have been futile, mostly because of a diplomatic rift.
The Airline currently flies to Nairobi, Kinshasa, Juba, Mombasa, Dar es Salam, Mogadishu, Kilimanjaro, Bujumbura, Dubai and the most recently added destination, Johannesburg.
Both countries (Uganda and Rwanda) have in the last more than five years hit a diplomatic low with Rwanda accusing Uganda of not fairly treating Rwandese inhabitants living in the country and harbouring people opposed to the Kigali Government.
In 2021, the ties between the two countries went extremely low after the Rwandese Government closed its border with Uganda.
There have however been efforts by the Ugandan Government to improve relations between the two countries.
Last year, the first son, who was also at the time the Uganda People's Defence Forces Commander of land Forces, now Gen. Muhoozi Kainerugaba, made efforts to reach out to the Rwandese President, Paul Kagame.
Ties between the two countries has since been improving.
Eyewitness? Submit your stories now via social or:
Email: news@pulse.ug
Recommended articles
Ugandan engineer advances to the finals of the Africa Prize Engineering Award
Murdered minister Engola to be honoured as a hero
Museveni in isolation after testing positive for COVID-19
Chaos as tycoon Hamis Kiggundu storms out of Supreme Court in protest
Museveni tests positive for COVID-19
New study reveals 6% of retired police officers commit suicide
Health ministry asks pre-medical interns to meet own internship costs
60% of households in Uganda have seen their incomes grow, says Museveni
Family to honor Kato Lubwama's wish for prolonged funeral
Ibrahimovic's glamorous career in numbers
PHOTOS: summer is here - Arsenal and Chelsea stars already enjoying the break
Pulse Sports' Uganda Premier League Team of the Season