6 (other) reasons women love broke men
A broke man with money is every woman's dream.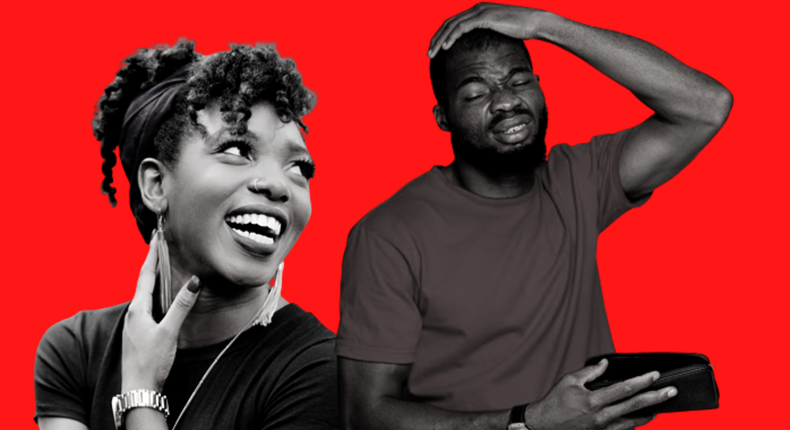 You read that right. Yes women want a financially stable man but at a certain point this stops being 'enough'.
This when a woman could leave her rich man or start an affair with a broke man.
Others simply want a man for his character and are willing to be with him in the brokeness.
Here are six reasons, other than the infamous sexual prowess and availability, that draw women to broke men.
1. They are relaxed
They don't let money define their relationship with her. Once the woman accepts him in his condition, his value is set for him.
He will focus on giving her pleasure, time and being romantic.
2. They focus on her
They are less distracted when with a woman.
They pride themselves on 'having' her despite her knowing their situation or having a better off partner.
So they focus to excellent performance to keep her or even win her over.
4. They are badboys
Broke man tend to have a rugged bad boy aura with nothing to lose. Or it could be a woman's rebellious streak to go for a broke man.
They also tend to have a reputation of being players which makes them a battle field for who gets them to settle.
If it is an affair, the risk makes them even more appealing. The woman might even compare a broke man to a rich man based on character or qualities that are more appealing than money.
5. They are free and wild
Being broke can actually play in their favour sometimes.
They are usually jacks of all trades, know their way around situations, circumstances, things, in bids of survival or having no money to pay for services.
They are not tied down and thus appear free and wild, the exact picture a woman may want in an affair or in a partner.
6. Fix-uppers
Women have a reputation for being fixers. Some believe in 'growing' with a man. Being part of a broke man's journey can be fulfilling for some women.
It can be seen as an achievement or display of character and values.
Broke men have their attractions as well as rich men, none of which have anything to do with their financial situations. It is a matter of each person playing upon their strengths and a woman's needs at any given time. However, this does not mean that the man in question is loved or wanted within his circumstances or for them.
Relationships are ultimately based on personal choices, values and understanding.
Eyewitness? Submit your stories now via social or:
Email: news@pulse.ug
Recommended articles
7 awesome ways to represent your country when you travel
How to use chicken broth to make thick fish stew
How to become his queen
How do Muslims join Christians for Easter during Ramadan?
How to make this Botswanian meal that was only eaten by men
10 safety tips to protect social media accounts from hackers, according to ChatGPT
6 popular foods you should not buy a Muslim for Iftar
5 people who are not permitted to observe Ramadan
Christians' perspective on the meaning of Easter eggs