Barbie Kyagulangyi shows off a beach casual look in her happy place
For most of us, when the week is winding down so does our dress code. Starting off the week with formal attire and waning with casual outfits and eventually the weekend wear. Somehow, Barbie Kyagulanyi combined formal Monday and casual Friday at the beach and it is a wholesome look.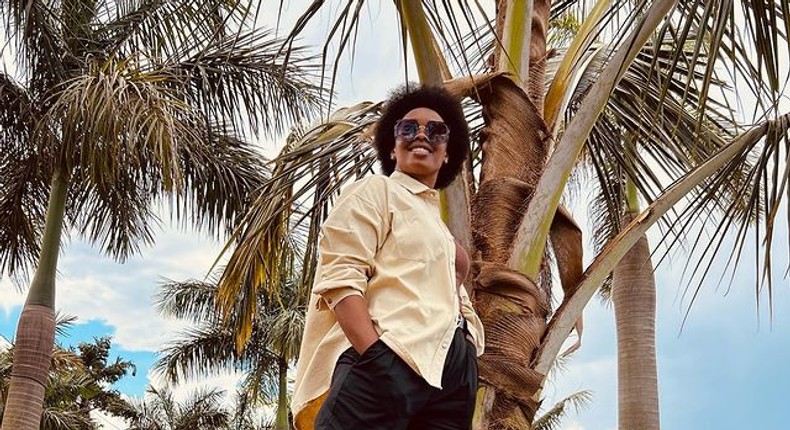 Barbie was relaxing at One Love beach in Busabala which says has healing powers for her.
"Here's where I wind off even on my days off work. There's a certain type of healing in this place @onelovebeach," she captioned pictures of herself looking laid-back.
The golf-course outfit fits right in at the beach where you would expect bikinis, especially in the wake of the dry season's return.
She is seen wearing a pair of Adidas Racer TR21 White, black casual high-waist chino pants, a long sleeve tunic with a brown slinky racer body tube. All finished off with a belt and a pair of sunglasses.
The sneakers have featured in a few of her recent outfits while she chose to rock her afro foregoing the summer hat.
Before winding off, Barbie works full-time at a charity organisation, she is a mother of four, an author and an activist. She also enjoys travelling, teaching the younger generation, and spending quality time with her family.
Pulse
One Love Beach in Busabala is one of the properties of the Kyagulanyi family. But the place seems to hold a special place in the Kyagulanyi matriarch's heart.
Eyewitness? Submit your stories now via social or:
Email: news@pulse.ug
Recommended articles
Fally bows out on a high at Kampala edition of his double concert
Pallaso takes pride in visit to Murchison Falls, makes risky gesture
Chef Keletso shines as foodies infuse whisky with divine culinary treats
Vinka goes shooting: 5 benefits of shooting at a gun range
How to prepare for an easy week at work/school
Try this stuffed green pepper recipe instead of baking
How the slave trade birthed this Surma tribe beauty tradition
Everything to know about hair beads from Barbie's new hairstyle
How to wear red lipstick like a pro