Pallaso, Alien Skin, Balaam, Abitex speak out after concerts
Pallaso and Alien Skin held successful shows on Friday, June 9.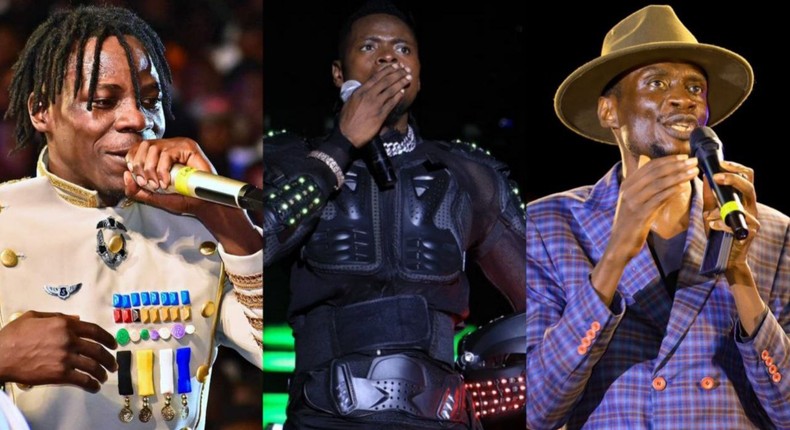 Pallaso's Love Fest Concert was held at Lugogo Cricket Oval and promoted by Balaam Barugahara.
That of Skin, dubbed Sitya Danger, was held at Freedom City Mall and promoted by Abitex.
Below are comments from the artistes and the promoters:
Barugahara tweeted: "I convey my heartfelt gratitude to all the great fans who came in big numbers at #Lugogo Cricket Oval for #LoveFestConcert, it was heartwarming to see you. Thanks a lot for loving @pallasomusic.
"Asante Sana. You are all amazing, thanks a lot for the love you showered us, you ashamed our enemies. We only commit to keeping and raising the standards. God bless you."
Abitex, according to Galaxy F.M., said: "Please tell Promoter @BalaamAteenyiDr that I'm the master of this game, he should come for lectures."
In a series of tweets, Alien Skin said: "You can Beat me but I'm unbeatable, You can stop me but I'm unstoppable cause We were Born Unruly and very LUCKY... Welcome back Guys We made History today , Nkwacho festival Loading akasiki kawede Kati mbaga #nkwachofestival... My People thank You for supporting me and each and Every one who Performed #SityaDangerConcert."
Pallaso also sent out two tweets.
In one, he said: "In this day and age, it's hard to find people that will stand firmly by you and believe in the things you do because there are many people doing what you do. However, I have been lucky to have a very dedicated group of supporters who believe in me as an artist and, most importantly, as a person. Last Night was impregnable. #TeamPallaso #PallasoLoveFestLugogo"
In another, he tweeted: "Honestly guys, I mean it from the bottom of my heart: I am sincerely grateful. No matter how significant or how irrelevant I get as I continue to be a part of this Family, I will always be most thankful to those of you who took the time to take interest in me in my beginning stages, when I was just a small fish in a pond looking to build my dreams. Thank you ALL For last Night The Love Fest set a New Record. See you in Mbarara Tonight."
Both shows had performances from different artistes.
Eyewitness? Submit your stories now via social or:
Email: news@pulse.ug
Recommended articles
Meet your celeb: Who is Faridah Nakazibwe?
Afrigo Band stranded at airport in Turkey
Angella Katatumba: How I met my ex-husband
Faridah Nakazibwe 'leaves NTV ' after 17 years
Kasita, Feffe Bussi brave tough questions on romance ahead of Dubai concert
Matatu Film Stage, a short movie celebration
List: Nyege Nyege rolls out stellar lineup of performers
Uganda's Sina Tsegazeab scoops prestigious award in Kenya
Cindy hails Bobi Wine, speaks out on big-three battle prospects