Jowy Landa: Why 'I love Pallaso so much'
Jowy Landa said she will forever be grateful to Pallaso.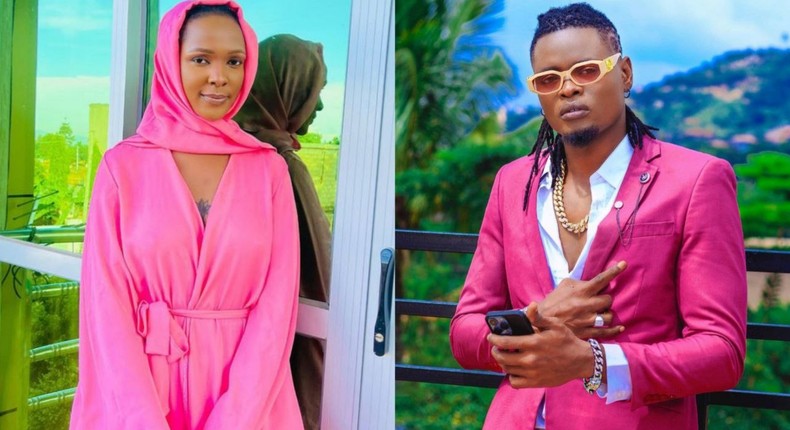 Pallaso mentored and managed Landa when she was still starting in the music industry.
She got his attention when she did a cover of John Blaq's hit song Obubadi.
The cover, which was posted on her YouTube four years ago, has more than 314k views.
"He told me, you are talented; I liked your cover of John Blaq's song, I want us to do business," Landa said while appearing on BBS TV when she was asked how she got under Pallaso's mentorship.
Pallaso managed Landa, real name Joan Namugerwa, under his record label named Team Good Music.
"I worked with him and got hits, but I moved on. I got another management," she said.
"But I can never forget him. He started my career. Pallaso I love you much."
Pallaso will hold a concert on June 9 at Lugogo Cricket Oval and she said she will be there to support him.
"He has a concert this year... We are gonna support you," she said.
"Thank you for making Jowy Landa and mentoring me. I love you so much."
"According to the work she has, female singers should be wary of her, she appears unserious, but we've changed a lot and Jowy Landa is now flying. She has actually been on numerous tours, being booked left, right, center. She is one of the busiest artistes," said Pallaso
Jowy Landa is currently managed by Roger Kitaka, popularly known as DJ Roja.
Eyewitness? Submit your stories now via social or:
Email: news@pulse.ug
Recommended articles
Afrigo Band stranded at airport in Turkey
Angella Katatumba: How I met my ex-husband
Faridah Nakazibwe 'leaves NTV ' after 17 years
Kasita, Feffe Bussi brave tough questions on romance ahead of Dubai concert
Matatu Film Stage, a short movie celebration
List: Nyege Nyege rolls out stellar lineup of performers
Uganda's Sina Tsegazeab scoops prestigious award in Kenya
Cindy hails Bobi Wine, speaks out on big-three battle prospects
I graduated with a master's degree when I was 19 - Angella Katatumba