Feffe Bussi reveals how Bobi Wine was 'convinced' to join making of 'Labisa'
Rapper Feffe Bussi said he was blessed to collaborate on a music project with Bobi Wine.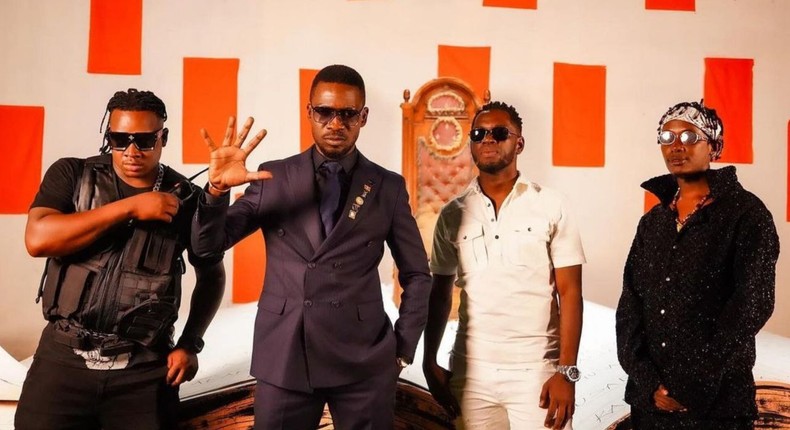 Bussi teamed up with Wine, Nubian Li, Zex Bilangilangi and Sizza Man to release a new song titled Labisa.
"I'm lucky and the country is also blessed that the principal [in reference to Wine] allowed to give them more music," said Bussi.
The crooner, who also goes by Smallest Rapper, said it was a spur-of-the-moment collaboration.
"How do you start accosting the principal that you want to do a song with him?" the rapper said when he was asked in a media interview how Wine joined the project.
"You know he is chasing a lot of things.
"We were lucky and found him at the studio in a vibe mood and we produced the tune."
Bussi said he composed his bars the day the song was produced.
"I was called by Zex," he said when he was asked who wrote the song.
"They were in Kamwokya. It seems they're all on vibe... but by the time I arrived everyone was on fire."
Bussi said he was in Makindye, Munyonyo at the time Bilangilangi called him over the phone.
He was a bit hesitant, so Bilangilangi played him a chorus that Nubian Li had recorded. He believes it had been recorded over the phone.
"I immediately started writing lyrics," he said.
Bussi, who recently acquired new management after parting with his former manager Arafat, released his first single titled Summertime in 2013.
The rapper, whose real name is Frank Mukiiza, didn't break through until 2015 when he teamed up with Sheebah Karungi who was already a household name to release Nsekula.
In 2016, he followed up with another banger titled Yes No and cemented his name in the Hip Hop world when he dropped Who is Who in 2018.
According to publicly available information, Feffe Bussi was born on December 9, 1993, and he grew up in Nakulabye, Nabulagala.
Eyewitness? Submit your stories now via social or:
Email: news@pulse.ug
Recommended articles
Meet your celeb: Who is Faridah Nakazibwe?
Afrigo Band stranded at airport in Turkey
Angella Katatumba: How I met my ex-husband
Faridah Nakazibwe 'leaves NTV ' after 17 years
Kasita, Feffe Bussi brave tough questions on romance ahead of Dubai concert
Matatu Film Stage, a short movie celebration
List: Nyege Nyege rolls out stellar lineup of performers
Uganda's Sina Tsegazeab scoops prestigious award in Kenya
Cindy hails Bobi Wine, speaks out on big-three battle prospects