Barbie's response when asked if she misses Bobi Wine performing on music shows
Barbara Itungo Kyagulanyi, also known as Barbie, misses seeing her husband, Bobi Wine, performing on stage.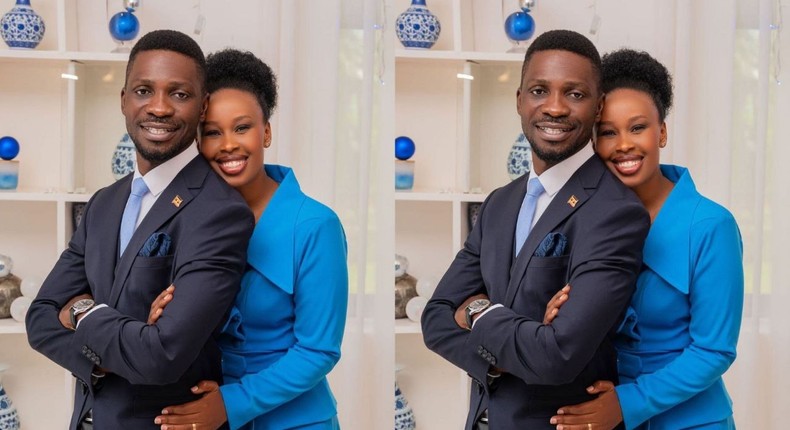 Wine was banned from holding music shows after he started eyeing the presidency.
Speaking to the media on Wednesday, Barbie was asked to speak her mind about the move by authorities to ban Bobi Wine from performing on music shows.
"I don't have anything to say to authorities and they also have nothing to tell us," Barbie said, adding that her husband will return to the stage God willing.
"He will come when the time is right. What I know is that I miss him on stage, as her strongest fan."
According to Wine, he is only taking a break to fulfill his mission in politics and he will return once that's over.
"There is absolutely no way I can leave music. It's my identity. Even after all this... is over. Because one day this struggle is gonna be over and we are gonna be free," Wine said.
"I cannot wait to become a singer once more. That's my passion. That's my favourite activity. That's the best thing that has ever happened to me, being a musician. And I miss my musical life, but we have work to do here."
Though he still releases music once in a while and also performs on some occasions, he hasn't been so involved in the music industry for the past six years.
Wine in 2017 surprised many when he ditched his widely successful music career to run as Kyadondo County East constituency Member of Parliament (MP) during a by-election that pitted him against two seasoned candidates – Sitenda Sebalu of the ruling National Resistance Movement (NRM) party and Apollo Kantinti of Forum for Democratic Change (FDC).
In 2021, he took it further and run in the presidential elections on the back of a volatile political career. He is now the leader of the strongest opposition party, the National Unity Platform (NUP).
Eyewitness? Submit your stories now via social or:
Email: news@pulse.ug
Recommended articles
'Do better next time' - Maureen Nantume tells off guests who broke dress code at son's birthday
Video: Fans forcefully open gates at sold-out Alien Skin concert
Minister JC Muyingo reveals he's Kato Lubwama's elder brother
Kapa Cat once showed me her private pictures, called me to her room - Gravity
Abitex to Pallaso: Come to Alien Skin's concert if you want to sing for a huge crowd
Nsereko talks quitting music: 'My mom grabbed me from stage'
Nyege Nyege Festival clarifies distinction and warns against imitations
A Ka Dope Band's Francis Kasura Unveils 11 Song Debut Album
Sheebah Karungi attacked at Kato Lubwama's vigil
Ibrahimovic's glamorous career in numbers
PHOTOS: summer is here - Arsenal and Chelsea stars already enjoying the break
Pulse Sports' Uganda Premier League Team of the Season