I don't know Sheilah Gashumba - Robin Kisti
Media personality Robinah Nambooze, popularly known as Robin Kisti, claimed she doesn't know Sheilah Gashumba despite the two having been friends at some point and then bitterly falling out.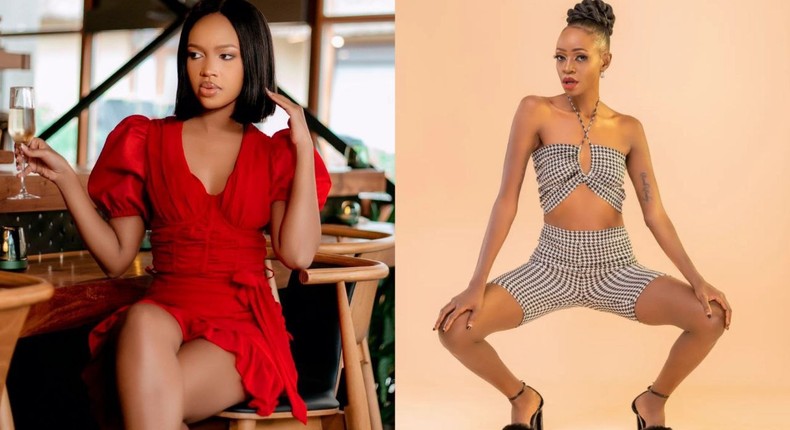 Kisti and Gashumba were once both employees of NTV Uganda though they were hosting different shows.
They even used to party together.
Their relationship soured when Gashumba, in 2020, went online to reveal that NTV used to pay her peanuts, a bombshell that stimulated a polarised social media debate among TV personalities.
Kisti wasn't on Gashumba's side, telling her to be grateful that the Serena-based TV station offered her a platform to boost her career.
"I'm a mother that is why I don't want to be involved in fights. But it hurts to see someone attacking a station that used to pay her well. NTV got us so many benefits, NTV created brands for us; she was unprofessional to attack a company that once fed her. 50k or not, if you went to school, there is no way you can tell me that you used to get 50k and spent 80k on makeup, that means you don't know math. NTV actually used to buy us makeup, if you used to do makeup," Kisti said.
She also went on to reveal that she and Gashumba had been friends for a while and she would some nights at her [Sheilah's] father's home in Bunga, a leafy Kampala suburb.
Judging by comments from her recent media interview, their issues have never been resolved.
Asked to comment about Sheilah Gashumba, Robin Kisti, while laughing, said: "Who is she?... I don't know that one."
When newsmen reminded her that she once said that they used to do drugs together, she said: "I don't know anything about that."
She added: "I don't know what you're talking about."
Eyewitness? Submit your stories now via social or:
Email: news@pulse.ug
Recommended articles
Video: Fans forcefully open gates at sold-out Alien Skin concert
Minister JC Muyingo reveals he's Kato Lubwama's elder brother
Kapa Cat once showed me her private pictures, called me to her room - Gravity
Abitex to Pallaso: Come to Alien Skin's concert if you want to sing for a huge crowd
Nsereko talks quitting music: 'My mom grabbed me from stage'
Nyege Nyege Festival clarifies distinction and warns against imitations
A Ka Dope Band's Francis Kasura Unveils 11 Song Debut Album
Sheebah Karungi attacked at Kato Lubwama's vigil
Bad Black proves she's mastered the diss game in this nonchalant apology to Kulthum, Akram
Ibrahimovic's glamorous career in numbers
PHOTOS: summer is here - Arsenal and Chelsea stars already enjoying the break
Pulse Sports' Uganda Premier League Team of the Season