Faridah Nakazibwe gifts former boss Gordon Wavamunno
Media personality Faridah Nakazibwe visited her former boss Gordon Wavamunno.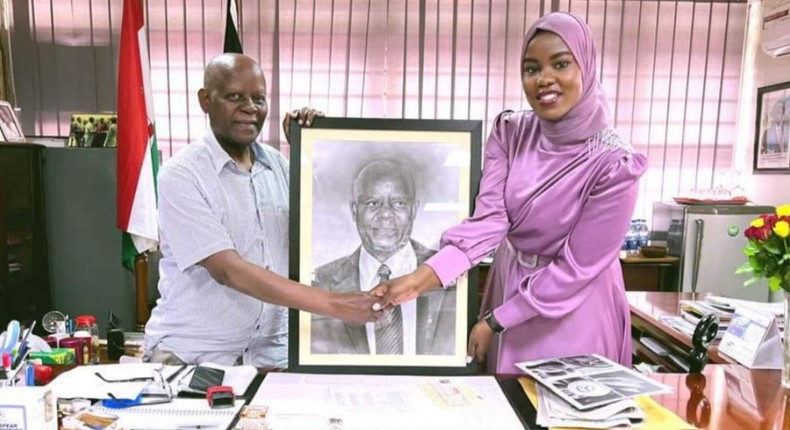 Wavamunno, one of the wealthiest men in Uganda, was the owner of the now-defunct W.B.S. T.V.
It's where Nakazibwe got her first job after university.
W.B.S. Television was one of the biggest, if not the biggest TV station, at the time.
At W.B.S. Faridah Nakazibwe, who studied mass communication at Islamic University in Uganda (I.U.I.U.), was hired as a reporter.
The businessman closely supervised her and at one point she reported about him getting stuck in a snarl-up because of a muddy road.
After the story aired, the area leaders worked on the road after seeing the story. Gordon Wavamunno was impressed.
To visit her former boss, Nakazibwe took a portrait.
She took to Facebook and Twitter to share pictures of her hanging out with her former boss at his office.
On Twitter, she posted: "To the gentleman who gave me the first opportunity on TV(WBS), Prof. Gordon Wavamunno.
"I was young, inexperienced, no transcript yet but 'yes' he said. That's the foundation on which I am built.
"I am very grateful. May God bless him with good health."
She wrote on Facebook: "Today, I went back home to the gentleman who gave me the first platform. WBS nurtured a lot of talent, some of which still thrives to-date.
"Obugalo for Prof. Gordon Wavamunno 👏🏾"
She went there on June 5.
Eyewitness? Submit your stories now via social or:
Email: news@pulse.ug
Recommended articles
Azawi's 'Sankofa' listening party: A musical delight
How Naava got the name 'Grey'
My father kicked me out of home when I chose to become a DJ - Rasta Rob
Azawi dedicates new song to Nakulabye man who broke her heart
Meet your celeb: Who is Faridah Nakazibwe?
Afrigo Band stranded at airport in Turkey
Angella Katatumba: How I met my ex-husband
Faridah Nakazibwe 'leaves NTV ' after 17 years
Kasita, Feffe Bussi brave tough questions on romance ahead of Dubai concert