Eddy Kenzo: My story with Big Eye
Eddy Kenzo dismissed cliams that he started Big Talent Entertainment with Big Eye.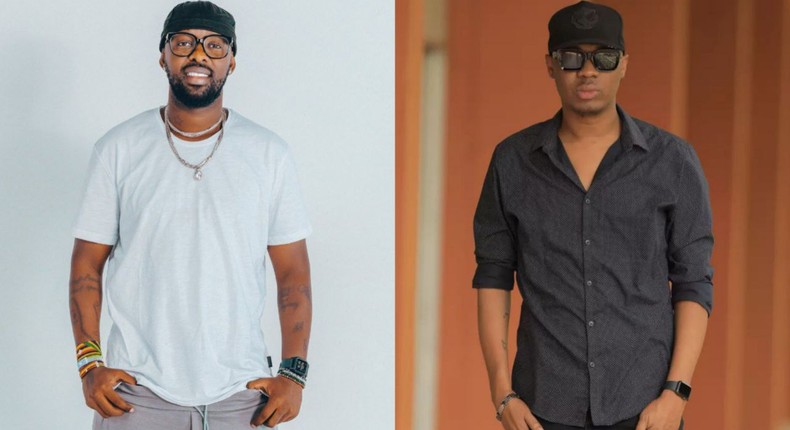 While appearing on Galaxy F.M. recently, Big Eye, real name Ibrahim Mayanya, claimed that they started the record label together.
Kenzo was also hosted on the same show this week and D.J. Nimrod sought clarity.
Nimrod: Big Eye told us that you co-founded Big Talent with him, how true is that?
Kenzo: I didn't start Big Talent with him. I brought him into Big Talent.
Nimrod: So, it's you who started it?
Kenzo: if he had started it, he would have gone with it
Nimrod: So, what happened?
Kenzo: Ahh... Big Eye reached a point where he culd no fit under the record label and he need to be on his own.
Nimrod: What's the problem between you two?... He recently used cusswords against you while appearing on this show.
Kenzo: If that's how he sees me, I can't say no... everyone is feel to have their own perception of you.
Big Eye was under Kenzo's Big Talent Entertainment for a year before he left to start his own record label named Big Music Entertainment. He said their separation was harmonious.
But since departing he has always levied criticism against Kenzo.
"He is not my president," began Big Eye.
"He doesn't qualify to lead musicians because there are many qualifications he doesn't have."
Pulse
Asked to name Kenzo's weakness, he said: "He doesn't wish well for the industry. He is always frustrating others... He hasn't contributed much to the industry."
Pulse
Eye, who was speaking from the U.K., said he was establishing connections that he would share with fellow musicians once he returns.
Eyewitness? Submit your stories now via social or:
Email: news@pulse.ug
Recommended articles
Azawi's 'Sankofa' listening party: A musical delight
How Naava got the name 'Grey'
My father kicked me out of home when I chose to become a DJ - Rasta Rob
Azawi dedicates new song to Nakulabye man who broke her heart
Meet your celeb: Who is Faridah Nakazibwe?
Afrigo Band stranded at airport in Turkey
Angella Katatumba: How I met my ex-husband
Faridah Nakazibwe 'leaves NTV ' after 17 years
Kasita, Feffe Bussi brave tough questions on romance ahead of Dubai concert