Bettinah blasts Daniella for laughing at Instagram post insulting her NYASH: I've lost respect for you
Daniella Atim got on Bettinah Tianah's nerves on Thursday evening.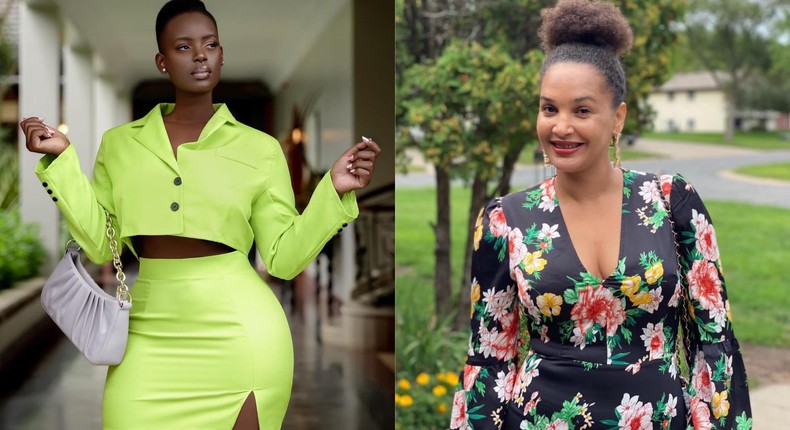 Earlier, Tianah, real name Betty Nassali, posted on Instagram: "I really wanna go Europe for shopping so bad."
A commenter named Luwangula Mukaabya responded to the post, mocking her: "My friend, those countries are segregative. You see they even segregated a woman that got married to a queen's son... how about you with a dark butt? I suggest you go to Owino [Market]... that way, you will find peace."
Atim took a screenshot and shared it on her Instagram, captioning it: "I swear it's a full time [sic] job being a Ugandan [laughing emojis] Not for the faint hearted [sic]."
Atim's move didn't sit well with Tianah who wrote on Instagram: "Dear [Daniella Atim] the respect I had for you just got flashed down the drain[.] Nothing is funny here at all[.] I expected you to condemn such behaviour, the fact that it humors you to the extant [sic] of posting for your followers to laugh baffles me. Being black ain't a crime."
A commenter on Tianah's post said: "This is so wrong eh! As black people[,] we should be supporting and fighting for acceptance of our black beauty banaye [please.]"
Another said: "Truth be told, i too was shocked when i read her caption to it!! She is someone I expected to condemn such nonsense comments!! I don't think of her the same way i did before her posting that!!"
Added another: "Just know she became a blogger with full of nonsense 🤣🤣"
One of the commenters reminded Tianah about internet rules: "Trolling is here to stay,just have to develop a thick skin, it is what it is."
Eyewitness? Submit your stories now via social or:
Email: news@pulse.ug
Recommended articles
Watch: Video showing Vanessa bragging about going back to her ex-lover annoys netizens
The Weeknd declared the most popular artist in the world
I used to send Brielle 60k weekly - Vanessa tears up as she exposes Bruno K
I once reported Ann Taylor to my father over washing clothes - SB4 Media
Video: Fabiola 'teaches' Sheebah how to move NYASH
The making of the Queen of Buganda: Let Nabagereka Sylvia Nagginda tell you
Anne Kansiime 'teases' MTN Uganda CEO: Watch their amazing conversation
7 Ugandans eyeing Shs377 million Voice Africa prize to be unveiled on Sunday
New 'Queen Charlotte: A Bridgerton Story' trailer shows a rocky love story