I did not clear Kasule Lumumba's trip to US - PM Nabbanja
Prime Minister Robinah Nabbanja has revealed that she did not give permission to the Minister of State for General Duties Justine Kasule Lumumba to travel to New York and that her expenses will not be footed by taxpayer money.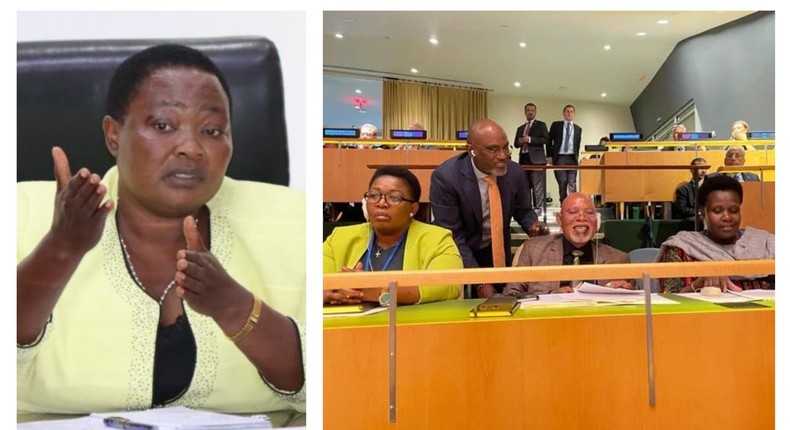 Nabbanja finally spoke out on her controversial travel with a big delegation to the recently concluded United Nations General Assembly.
The Premier faced public criticism after it emerged that she traveled together with Vice President Jessica Alupo and Minister Lumumba along with a delegation of over 70 officials to New York.
President Yoweri Museveni during the NRM caucus meeting in Entebbe on Thursday, tasked both Nabbanja and Alupo to explain this extravagance.
The duo, however, told the president that they each traveled with a delegation of just five people.
It was also reported that most of the people who traveled as part of this delegation did not participate in the UN activities.
Speaking in a radio interview today, Prime Minister Nabanjja attacked Minister Lumumba for overstepping her mandate to travel abroad without her clearance.
Although she had earlier sent Lumumba to New York as part of the advance team to prepare for the trip, Nabbanja said for the main event she decided to travel herself and that Lumumba was not supposed to go.
And while Lumumba reportedly traveled to represent Uganda at the UN's meeting on Sustainable Development Goals (SDGs), Nabbanja insists that this was not the minister's responsibility.
"She went by herself. In Uganda, we don't have a minister in charge of SDGs. She's just self-appointing here. She's supposed to do what I tell her to do," charged the Prime Minister.
"I gave her permission to go in July for preparations but this time I told her I am going. So she used her money and went and I am not refunding it."
Nabbanja added; "She was in the meeting where I announced that I was going; why then did she decide to travel? She needs to know that whatever wars she was fighting (as NRM Secretary General) she shouldn't bring it into our business."
Eyewitness? Submit your stories now via social or:
Email: news@pulse.ug
Recommended articles
Cartoonist Jimmy 'Spire' wins human rights accolade
Government should explain the disappearance of its people, says Justice Batema
Gov't reiterates commitment to champion human rights amid growing concerns of disappearing people
Pastor says his mother died 3 different times and he resurrected her
Parents, students to be tipped on study abroad programs at Education Fair in Kampala
'Dear mothers…' - North Korea's Kim Jong-un in tears, begs women to give birth [video]
YouTuber jailed for 6 months after deliberately crashing plane for views
Gov't seeks Shs 2billion renovate contested Old Kampala Mosque
Jinja to host International Human Rights Defenders Day celebrations