9 arrested over vehicle vandalism in Kampala
The Central Police Station Kampala this week responded swiftly to a wave of complaints on social media and through official channels regarding vehicle vandalism within the central business district.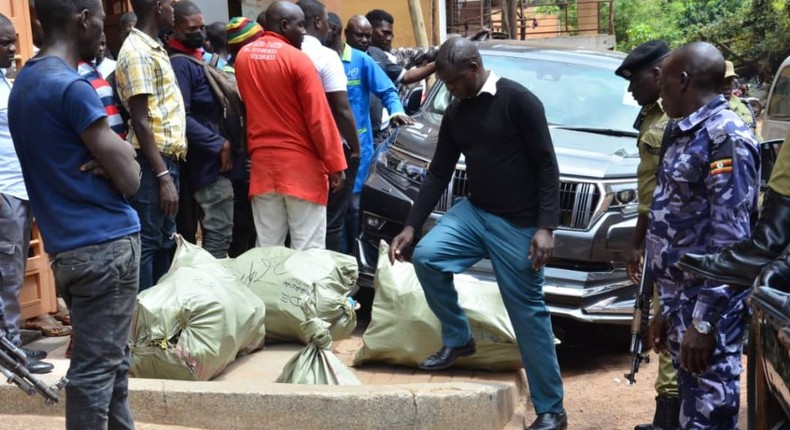 This was revealed in a statement issued on the Force's official website yesterday.
According to the deputy public relations for Kampala Metropolitan Police, Luke Owoyesigyire, they managed to apprehend suspects involved in the theft of side mirrors and other motor vehicle parts in a coordinated intelligence operation.
The suspects, who were caught red-handed in the act of stealing from both moving vehicles and those parked in Kampala Capital City Authority (KCCA) parking spots, have been identified as: Muhammed Ramathan, Kabalega Deus, Emron Lawrence, and Kazungu Enoch.
He revealed that a significant number of stolen motor vehicle parts were recovered from the suspects during the operation.
Further interrogation of the apprehended individuals led the police to the Kiseka area, where they discovered shops engaged in the illegal trade of stolen vehicle parts. Additional suspects who were arrested during this phase of the operation were: Mugabi Shakur, Lukwago Abdulkarim, Kabambwe, Mark Nyanzi Fred, and Wandera Fred.
"All suspects are currently in custody at the Central Police Station in Kampala, where they will undergo due process. They will subsequently be brought before the courts of law to face charges related to their involvement in these criminal activities," Owoyesigyire said.
Furthermore, our ongoing investigation continues to yield results as we work diligently to uncover additional details about this criminal network. The police are committed to ensuring the safety and security of the public, as well as the protection of their property.
Eyewitness? Submit your stories now via social or:
Email: news@pulse.ug
Recommended articles
Cartoonist Jimmy 'Spire' wins human rights accolade
Government should explain the disappearance of its people, says Justice Batema
Gov't reiterates commitment to champion human rights amid growing concerns of disappearing people
Pastor says his mother died 3 different times and he resurrected her
Parents, students to be tipped on study abroad programs at Education Fair in Kampala
'Dear mothers…' - North Korea's Kim Jong-un in tears, begs women to give birth [video]
YouTuber jailed for 6 months after deliberately crashing plane for views
Gov't seeks Shs 2billion renovate contested Old Kampala Mosque
Jinja to host International Human Rights Defenders Day celebrations