How to give your pork this popular South American drink flavour
Piña colada is a famous tropical drink with a unique pineapple and coconut blend. The drink was invented in San Juan, Puerto Rico and includes a sweet mix of coconut cream, pineapple juice, and white rum (or not for the nonalcoholic recipe). It's lesser-known food versions include Piña colada pork steaks which you can make in an hour with just nine ingredients.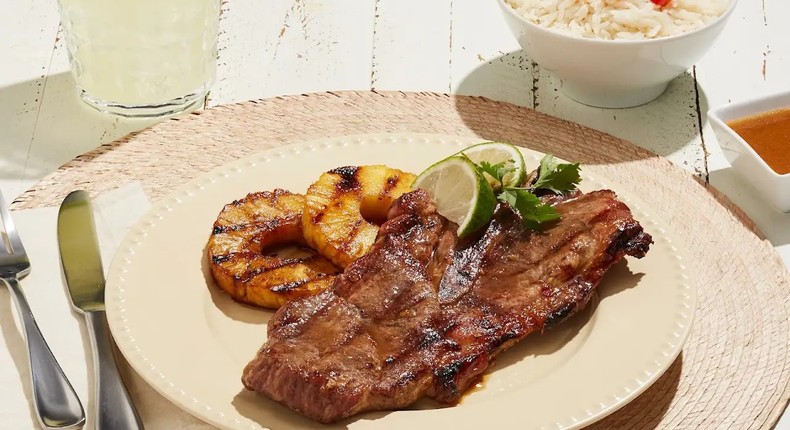 How to make your pork steaks with Piña colada
Ingredients
2 cups pineapple juice
1 cup cream of coconut (find coconut cream in the liquor department; do not use coconut milk)
1/2 cup rum (light or dark)
2 Tablespoons of low-sodium soy sauce
1 Tablespoon of chilli garlic paste
1/4 cup fresh lime juice
1 Tablespoon of Chinese five-spice powder
2 Teaspoons kosher salt
4 pork steaks (bone-in, 8-10 ounces each)
Directions
Preheat the grill to medium-high.
In a large saucepan, combine the pineapple juice, cream of coconut, rum, soy sauce, and chilli garlic paste.
Bring to a simmer and cook until reduced by about half and the sauce is slightly thickened, about 20 minutes, stirring occasionally.
Off heat, stir in the lime juice.
Pour half of the sauce into a serving dish and set aside.
In a small bowl, stir together the five-spice powder and salt.
Season the steaks on both sides with the spice mixture, then grill the steaks for 20 minutes, turning halfway through.
Brush the remaining pineapple sauce liberally onto the meat, turning and brushing for an additional 10-15 minutes, or until pork is cooked to an internal temperature of 145°F, and steaks are glazed and richly browned.
Arrange the pork steaks on a serving platter and serve with reserved pineapple sauce on the side.
Eyewitness? Submit your stories now via social or:
Email: news@pulse.ug
Recommended articles
Preconception care: C-Care IHK's Dr. Nsubuga answers key questions
7 ways to stay friends with the opposite sex without catching feelings
Tactics con artists use before they scam you
3 reasons relationships that start in December may not last
5 things every young man in a relationship should know about women
5 tips to stop drinking alcohol
The truth about feminine wash and perfumes
7 things your belly button says about your health
Some common causes of coarse palms and how to soften them