A guide to understanding the difference between journeys, trips and travel‍
Are you planning a journey, trip, or travel as the dry season rises on the horizon? It is essential for your destination experience to understand the difference between these terms. Although they are used interchangeably, they each have unique features and call for different planning strategies. In this guide, we explore what constitutes and differentiates them in addition to tips on planning for each experience.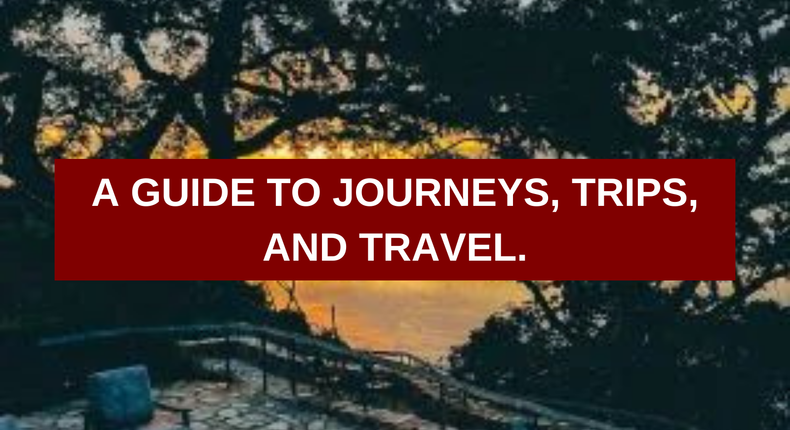 A journey can be a solo trek across a remote village or a pilgrimage to a holy place. What makes it unique is that it is not about the destination alone but also everything that happens along the journey.
Whatever the choice of terrain and culture, journeys are about challenging oneself to grow as a person, stranger, survivor, and student.
Defining a trip
A trip is the opposite of a journey. It is a straightforward experience with a clear purpose in mind as one moves from place to place. A trip can be a countryside visit to family or attending a conference in another region.
There's no timeline for a trip, but not in the way that a journey depends on a person's experience. The timeline of a trip depends on its purpose so it can be long or short. However, a trip has a clear beginning and end. A trip is usually about the destination.
Unlike journeys, trips require some planning whether they are planned or not. Logistics include booking flights or rides, and accommodation reservations, among other things ensuring comfort and efficiency as much as possible.
Understanding travel
Travel is an umbrella term encompassing journeys and trips, and other travel experiences. Travel can be labelled as the act of moving to places for either pleasure or business such as a weekend getaway or an annual backpacking trip.
Unlike journeys and trips, travel involves a variety of experiences notably a deliberate change of scenery, learning about different cultures, people, and sites, among other experiences. Travel usually involves an itinerary and trying out new things. It may or may not be transformative but that is not the goal. Travel is usually concerned with recharging, relaxing, or connecting with family and friends.
Summarising differences between journeys, trips, and travel
Now that each term is defined, let's explore the differences
Journeys
Journeys can be more challenging both mentally and physically. They may involve spending long periods of time in remote locations or navigating unfamiliar cultures.
Trips
Trips are usually more comfortable and predictable. They may involve staying in hotels or resorts, taking tours, and following a set itinerary.
Trips rips are more focused on reaching a specific destination.
Travel
Travel can be either a journey or a trip, depending on what the traveller is seeking.
Some people travel to challenge themselves and grow as individuals, while others travel to relax and unwind. The key is to understand the type of experience you're looking for and plan accordingly.
How to plan for journeys, trips, and travel
With the definitions and differences in mind, let's explore how to plan for each type of experience.
Making plans for a journey
Identify your goals according to your 'why' and 'what'
Do you have a specific challenge you want to overcome?
Is there a skill you want to develop?
Once that is out of the way, you can start pining down different options for your journey.
Whether you are going to hike in the Himalayas or embark on a spiritual pilgrimage, consider what logistics you may need. You might need to research gear and equipment, get a mentor, or map out your route.
Details of planning for a trip
Trips are all about destination and purpose. Depending on whether it is for business or pleasure, there might be a specific attraction involved or a specific goal.
Once your destination is set, you can start researching logistics such as transportation and accommodation, hospitality, leisure, and tours.
You may also want to create an itinerary of activities and attractions at the destination.
Understanding the logistics of travel
Since travel can encompass a variety of experiences and activities, the first thing you need to figure out is your budget and timeline.
Once you have decided how much you are willing to spend, and how much time you have on your hands, you can start researching potential experiences and destinations. This is when an itinerary is essential to keep track of your money and time.
Pulse
Tips for getting the most out of your journeys, trips, and travel
So how do you get the most out of your time away on each of these explorations? Now that we have looked at how to plan for each experience, let's look at squeezing every last drop of value out of them.
Be flexible
Leave room for change because regardless of how well you plan, some things can go wrong. Be flexible and adaptable to embrace unexpected diversions and find opportunities to power through.
Embrace the local culture
Your habits and comfort will return when you get back. Try to embrace the local scene and culture in terms of food, phrases, and experiences. You will get a deeper appreciation of your destinations and create lasting impressions.
Avoid overpacking
Check out our packing hacks for travel to avoid overpacking. Hauling too much luggage will cause you a lot of stress and discomfort while leaving zero space to carry souvenirs and other purchases.
Conclusion
Journeys, trips, and travel are each unique experiences with different planning strategies. Journeys focus on personal growth and discovery, trips focus on reaching a specific destination, and travel encompasses both along with other experiences.
By understanding the differences between them and planning accordingly, you can get the most out of your time away. Remember to be flexible, embrace local culture, and pack light. With this guide in mind, you can be assured of a successful and enjoyable travel experience.
Eyewitness? Submit your stories now via social or:
Email: news@pulse.ug
Recommended articles
5 signs your boyfriend hates you and wants to break up
When women don't wash their bras often, these 5 things happen
Fally bows out on a high at Kampala edition of his double concert
Pallaso takes pride in visit to Murchison Falls, makes risky gesture
It's dangerous to rest your legs on a car's dashboard, here's why
Chef Keletso shines as foodies infuse whisky with divine culinary treats
Vinka goes shooting: 5 benefits of shooting at a gun range
How to prepare for an easy week at work/school
Try this stuffed green pepper recipe instead of baking