Video: Rema, Namulondo tease Hamza, Kampala Boys with 'pole dance'
The celebrations to mark Rehemah Namakula's 32nd birthday were on full blast.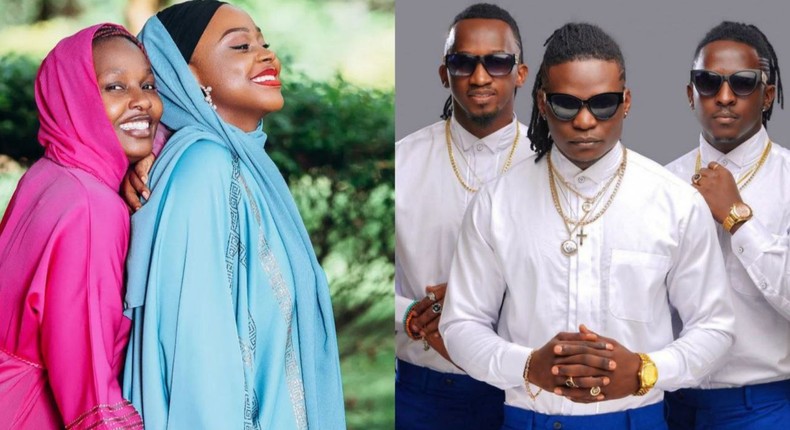 The songstress, better known as Rema, was born on April 24, 1991.
On her birthday, she hung out with friends and family.
They are in the company of Rema's hubby, Dr. Hamza Ssebunya, B2C (alias Kampala Boys) and some other people.
"Happy birthday my lovely sister," Namulondo captioned the TikTok video.
Rema Namakula in a recent interview revealed that she no longer sees Namulondo as just a friend.
"We are no longer just friends," said the Ngonze hitmaker, "she is my sister."
The 'This is Love' singer also took aim at critics who have been attacking Namulondo, saying she behaves as if she is her housegirl.
She said their friendship goes way back and she is now returning a favour to her actress buddy.
"People are really bad... can't a friend do something for me?... Do they know where we've come from... We've been through a lot, hitching Bodas and she would pay for me," she said.
"So, when I tell her, let's fly outside... why should I leave her behind. She was there for me, it's my turn to pay back."
Meanwhile, seeing Rema and Kampala Boys in the same room with Dr. Ssebunya also helped sort of address rumours that the doctor is okay with his wife hanging out with them.
Rema said in the media that her husband has no problem with her hanging out with them, after all, they've even worked on music projects together.
Eyewitness? Submit your stories now via social or:
Email: news@pulse.ug
Recommended articles
Afrigo Band stranded at airport in Turkey
Angella Katatumba: How I met my ex-husband
Faridah Nakazibwe 'leaves NTV ' after 17 years
Kasita, Feffe Bussi brave tough questions on romance ahead of Dubai concert
Matatu Film Stage, a short movie celebration
List: Nyege Nyege rolls out stellar lineup of performers
Uganda's Sina Tsegazeab scoops prestigious award in Kenya
Cindy hails Bobi Wine, speaks out on big-three battle prospects
I graduated with a master's degree when I was 19 - Angella Katatumba