Kenzo, Hamza, Kirumira in energetic dance session at Ssembatya's wedding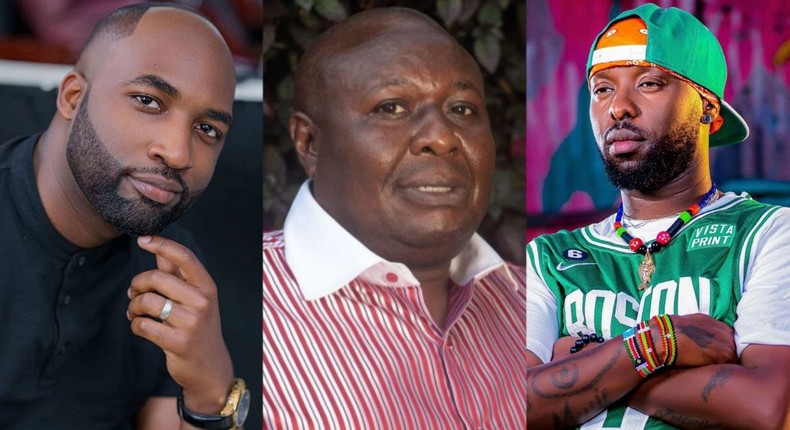 Kenzo was hired to perform at the wedding.
As the Sitya Loss singer was performing, someone is heard calling Dr. Sebunya to move to the side where the former was singing from. Dr. Sebunya obliges.
This is the second time Kenzo and Dr. Sebunya are meeting at a marriage-related event and their encounter gets publicised.
The first time was in January and Dr. Sebunya pulled out Shs20,000 notes and started giving them to Kenzo.
The two men first met for the first time in December 2022. They had not met since Dr. Sebunya started dating songstress Rema Namakula whom Kenzo sired a daughter with.
Namakula, who has a daughter with Kenzo named Aamaal Musuuza Malaika, left him after dating for six years to initiate romance with Dr. Sebunya.
Kenzo and Namakula dramatically ended their relationship in 2019.
The breakup hurt the Gimme Love singer so much that it even showed through his uncoordinated social media rants that made him sound deranged. It's in one of these rants that he teared up.
It should be recalled that Namakula used to be part of Gagamel, a record label founded by Bebe Cool, which she left in 2013 after her relationship with Kenzo became stronger.
Her departure would prompt a rift between Kenzo and Cool, though they have since buried the hatchet.
The Tweyagale singer played a crucial role in uplifting Rema Namakula's music career after she left Gagamel
When Rema introduced Dr. Hamza Ssebunya to her relatives in November 2019 at an event held in Nabbingo on Masaka Road, Kirumira was the chairman of the introduction ceremony.
Singer Rema Namakula and Dr. Ssebunya welcomed their first child, Aaliyah Ssebunya, on November 7, 2021.
Eyewitness? Submit your stories now via social or:
Email: news@pulse.ug
Recommended articles
Angella Katatumba: How I met my ex-husband
Faridah Nakazibwe 'leaves NTV ' after 17 years
Kasita, Feffe Bussi brave tough questions on romance ahead of Dubai concert
Matatu Film Stage, a short movie celebration
List: Nyege Nyege rolls out stellar lineup of performers
Uganda's Sina Tsegazeab scoops prestigious award in Kenya
Cindy hails Bobi Wine, speaks out on big-three battle prospects
I graduated with a master's degree when I was 19 - Angella Katatumba
My granny found porn magazines under my pillow - Byg Kahuna on naughty childhood