Why Katikkiro didn't attend Nabagereka Nagginda book launch
The Nnaabagereka of Buganda Queen Sylvia Nagginda Luswata, the eponymously-named book was launched on March 23 at the Sheraton Hotel in Kampala.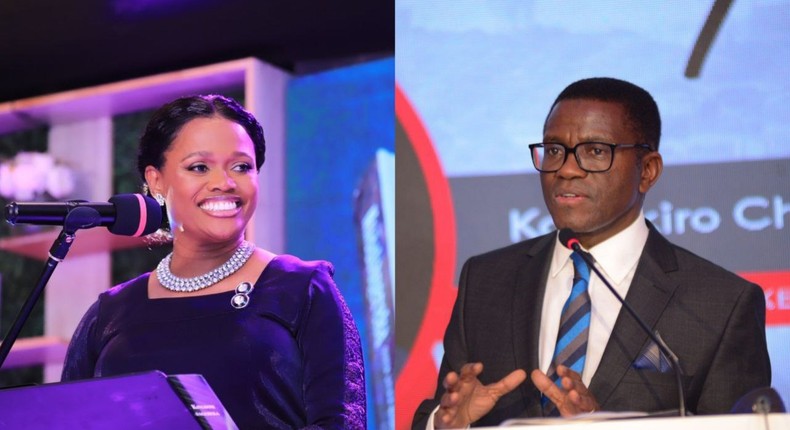 High-level guests from other kingdoms, notable government figures and diplomats attended the glamorous launch.
But some people wondered why Katikkiro of Buganda, Charles Peter Mayiga, didn't attend. Nothing much was said about the Kabaka since most people know he's been sick.
But Noah Kiyimba, the Buganda Kingdom spokesperson and information minister, has clarified the matter.
According to him, the premier was on leave that day.
"The launch... happened on the same day the Mengo cabinet was meeting to discuss important kingdom issues," Kiyimba said, according to New Vision.
"The Katikkiro did not attend the launch because he was on leave."
The book, which revealed some details about Nagginda and Kabaka Ronald Muwenda Mutebi most people didn't know about, was Dr. Dennis Sempebwa.
Dr. Sempebwa, who is a professional author, is the founder of Eagle's Wings Press, which published the book.
He currently lives in Texas, U.S.A.
One of the biggest revelations in the book was that Sylvia Nagginda has twins.
They are Jade Nakato and Jasmine Babirye and they were born on December 6, 2010.
While some thought the Kabaka was the biological father, the kingdom said he isn't.
In a statement, the kingdom said Daudi Chwa was the last king to sire twins. They are Kalemera and Kiggala and they were born in 1925.
Buganda culture stipulates that the Kabaka and his wives are free to raise children in the palace despite their origin as long as the Kabaka agrees to it, read the statement.
The statement also said that these children can call the Kabaka their father and they can also call his wives their mothers.
Eyewitness? Submit your stories now via social or:
Email: news@pulse.ug
Recommended articles
Video: Fans forcefully open gates at sold-out Alien Skin concert
Minister JC Muyingo reveals he's Kato Lubwama's elder brother
Kapa Cat once showed me her private pictures, called me to her room - Gravity
Abitex to Pallaso: Come to Alien Skin's concert if you want to sing for a huge crowd
Nsereko talks quitting music: 'My mom grabbed me from stage'
Nyege Nyege Festival clarifies distinction and warns against imitations
A Ka Dope Band's Francis Kasura Unveils 11 Song Debut Album
Sheebah Karungi attacked at Kato Lubwama's vigil
Bad Black proves she's mastered the diss game in this nonchalant apology to Kulthum, Akram
Ibrahimovic's glamorous career in numbers
PHOTOS: summer is here - Arsenal and Chelsea stars already enjoying the break
Pulse Sports' Uganda Premier League Team of the Season