What Kato Lubwama said about Pallaso, Alien Skin beef
Kato Lubwama weighed in following the fight between Pallaso and Alien Skin.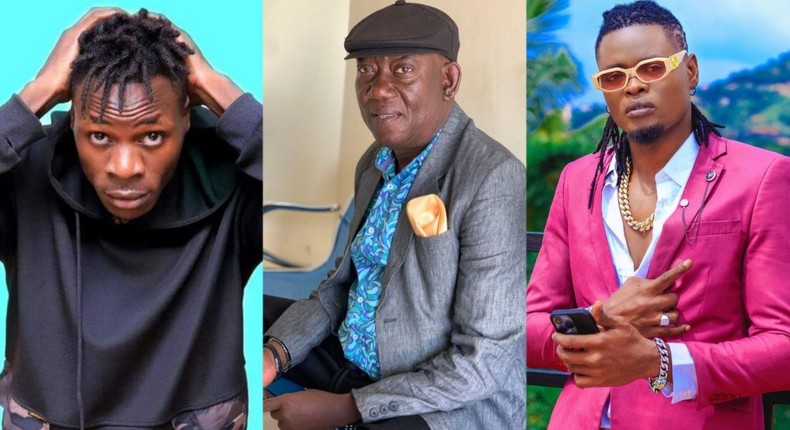 While he noted that Pallaso is also undisciplined, Lubwama talked tough when it came to Alien Skin.
Speaking to the media, he said: "I don't know, is he called Elon Musk?... You know he does nasty things. Stupid and nasty! There is nothing musical about what he does. Just noise. He is just making noise, that Sitya Danger!
"Isn't he the one called Alien Skin? The things he does are very stupid. I can't believe in them. Even when the public loves him for coming up with words that are uncouth. Words that are threatening and make someone feel confident... even when they are not confident.
"Instead of producing [great] songs, you are now coming up with silly stunts with thugs... the likes of Suuna Ben also came up with their kind of music at some point and excited everyone, but where are they now?
"You can't survive while singing things of mad people... time comes when that youthful energy is no longer high... Now, what's in Alien Skin's music?... the only people that probably enjoy his music are homeless people. Those are the kinds of people he inspires.
"Can you wake up to tell your child to be like Alien Skin?
"Whether Pallaso fills up [Lugogo Cricket Oval] or not, the first question we need to ask ourselves is, is his music good? Pallaso has some songs people appreciate... I don't like Pallaso that much because of some indiscipline issues, but this time I will attend his concert."
Lubwama said when Bebe Cool, Jose Chameleone and Bobi Wine came into the music scene, they vulgarised the industry and spoilt it for those who were there before.
"Musicians should know that music is not a boxing ring," said Lumbwama.
"Ask those who know me... you hit me once and you are thrown in prison for 40 years," he said.
Kato Lubwama died today morning, June 7, and he is expected to be laid to rest on Wednesday, June 14 in Nkozi, Mpigi district.
Eyewitness? Submit your stories now via social or:
Email: news@pulse.ug
Recommended articles
Azawi's 'Sankofa' listening party: A musical delight
How Naava got the name 'Grey'
My father kicked me out of home when I chose to become a DJ - Rasta Rob
Azawi dedicates new song to Nakulabye man who broke her heart
Meet your celeb: Who is Faridah Nakazibwe?
Afrigo Band stranded at airport in Turkey
Angella Katatumba: How I met my ex-husband
Faridah Nakazibwe 'leaves NTV ' after 17 years
Kasita, Feffe Bussi brave tough questions on romance ahead of Dubai concert