I friendzoned short boys because they 'feared me' - Miss Uganda Karema on dating
Miss Uganda Hannah Karema Tumukunde struggled to date in high school because most boys were intimidated by her height.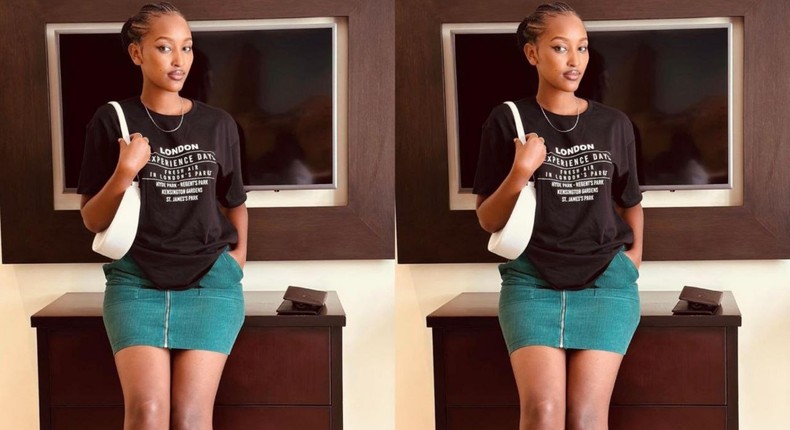 According to Tumukunde, she was taller than almost everyone in her class.
"I used to have male friends but I would friendzone them... I was also taller than them. They feared me," she said in a media interview.
"You know in Senior One, Senior Two, you want to be with someone that suits your height. Where a girl is short and you are tall. That's what most students wanted... I was taller than almost everyone in the class," she continued.
"Even those who wanted me would say, I love that girl but she is taller than me. Let me leave her."
She also said she would be interested in some guys but she found it a problem dating someone shorter than her because of the culture that has been predetermined.
Meanwhile, there were speculations that she is dating the singer Eddy Kenzo, but she denied it. She said he is just a family friend.
Hannah Karema Tumukunde, 20, was crowned Miss Uganda 2023/24 this past Saturday.
She was born in Kinoni village, Buremezi parish in Nakaseke district.
Her parents were also born and raised in the same district. The mother is Rwandan while the father is a Munyankore.
She is in her Form Six 'vacation' and she took a subject combination of History, Literature and Divinity (HLD) at her 'A' level.
She is considering doing either Law or Journalism.
She speaks Runyankore, Runyarwanda, Luganda and English.
Eyewitness? Submit your stories now via social or:
Email: news@pulse.ug
Recommended articles
Video: Fans forcefully open gates at sold-out Alien Skin concert
Minister JC Muyingo reveals he's Kato Lubwama's elder brother
Kapa Cat once showed me her private pictures, called me to her room - Gravity
Abitex to Pallaso: Come to Alien Skin's concert if you want to sing for a huge crowd
Nsereko talks quitting music: 'My mom grabbed me from stage'
Nyege Nyege Festival clarifies distinction and warns against imitations
A Ka Dope Band's Francis Kasura Unveils 11 Song Debut Album
Sheebah Karungi attacked at Kato Lubwama's vigil
Bad Black proves she's mastered the diss game in this nonchalant apology to Kulthum, Akram
Ibrahimovic's glamorous career in numbers
PHOTOS: summer is here - Arsenal and Chelsea stars already enjoying the break
Pulse Sports' Uganda Premier League Team of the Season