Tumwebaze commissions modern meat production farm
The Minister of Agriculture, Frank Tumwebaze, commissioned the Egypt-Uganda ultra-joint-model farm which has started producing meat for export.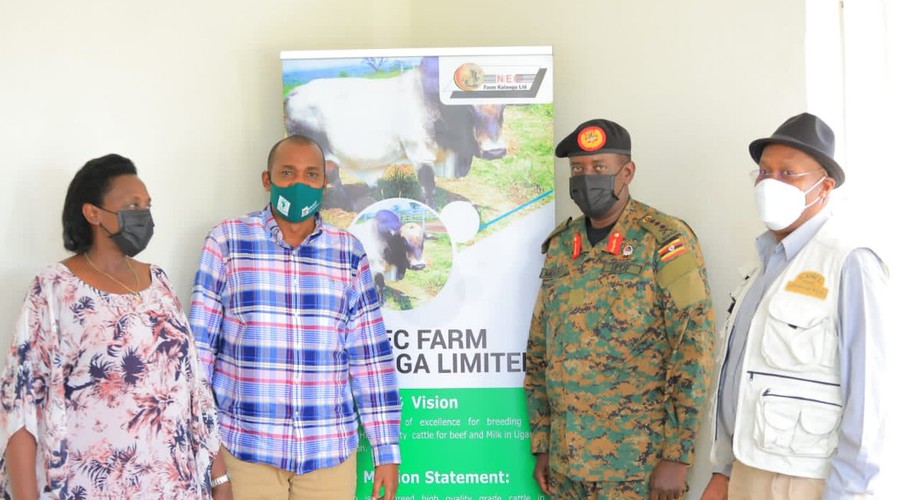 The farm, also known as the National Enterprise Corporation (NEC) Katonga Farm, is located in Kisozi in Gomba district.
It is a sprawl of 9sq miles of land and has been beefed up by the NEC to promote the production of meat for export to Africa, Europe and the Middle East.
NEC is a state owned corporation serving as the commercial arm of the Uganda People's Defence Force (UPDF).
Established in 1989 by an Act of Parliament, its investments and growing concerns include agriculture, manufacturing, healthcare, services, and defence industry projects and companies.
Egypt-Uganda ultra-joint-model farm is managed under the Meat Export Support Service Project, jointly managed by the ministry of agriculture and land reclamation scheme of the Arab Republic of Egypt and NEC.
Mr Tumwebaze toured the Egypt-Uganda bull-fattening farm, where it was revealed that bulls add 1.35kg of weight every day.
At the farm, the minister was received by the Egyptian deputy chief of mission, Mohanad Mozari and Mohamed Nazeeh Kilany, a counsellor at the Egyptian embassy along with other officials.
Mr. Tumwebaze thanked the government of Egypt for its continued partnership with Uganda.
He said his ministry had a prime eye on supporting model farmers, this support would have a knock-on effect in supporting surrounding farmers or out growers.
"We want to put money in Katonga farm because we want to ensure that the surrounding communities use this as their anchor factor to enable them to grow," he explained.
Meat production in Uganda stands at 142,000 tonnes, with beef contributing 107,000 tonnes.
The function was attended by the Permanent Secretary, Major Gen. Kasura Kyomukama, NEC managing director Maj. Gen. James Mugira, Gomba West Member of Parliament Robinah Rwakoojo and district leaders from Gomba and Ssembabule as well as other officials.
Eyewitness? Submit your stories now via social or:
Email: news@pulse.ug
Recommended articles
Rwanda doles out $150 million stimulus package to businesses, with aim of fast-tracking economic recovery post-pandemic
Museveni to address the nation on rising commodity prices this Sunday
Top 10 happiest countries in Africa in 2022
Ugandans must prepare for tougher economic times to come - Finance ministry
Shs400 billion to be availed for the pay of health workers - Government
As public debt rises, Uganda seeks to borrow Shs 9.7 trillion
After battling Twitter, Nigeria's Information Minister seems to be shifting focus to Facebook, others
When it comes to cash, women avoid borrowing more than men - Report
As Kenya's 16% VAT on digital transactions takes effect, LinkedIn responds by hiking subscription fees for Kenyan users