Arsenal fans released after two days in custody
Police in Jinja had detained several supporters of English Premier League football side, Arsenal, over an illegal trophy parade.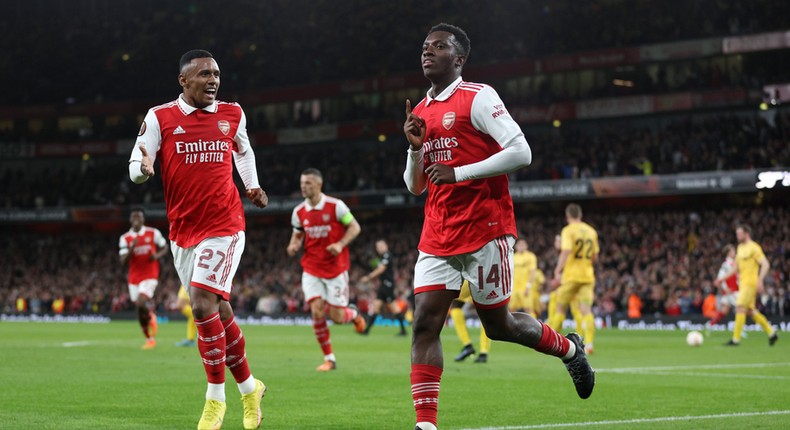 Police have released eight Arsenal supporters who were detained on Sunday in the 'premier league' trophy parade in Jinja.
The fans, wearing Arsenal replica jerseys, were released without charges on Tuesday after the news of their arrest spread across the globe.
Police had placed them behind bars for holding processions in the city streets where they were celebrating Arsenal's 3-2 win over their archrivals Manchester United.
Eddie Nketiah scored twice to sum up Bukayo Saka's goal, ending the thrilling encounter at Emirates Stadium.
Manchester United scored their goals through Marcus Rashford and Lisandro Martinez, which was insufficient for Erik ten Hag's men.
The results gave the Gunners fans hope that their club could end its 19-year wait to win the English Premier League.
James Mubi, the Kiira Regional police spokesman, justified the fan's arrest on Monday, saying they had not sought clearance to hold processions.
"They were holding a procession, and you all know that when holding any gathering or procession, you must get clearance from police," he said per Daily Monitor.
"Seeking Police clearance is also for your good because there are people with ill intentions, and not whoever dons an Arsenal jersey is a supporter.
"I'm in a Police uniform, but I support Arsenal... We aren't against Arsenal, but what is inside the intentions."
Arsenal are predicted to finish on 93 points, with Pep Guardiola's Manchester City on 81. Newcastle will be third, with Tottenham taking the final Champions League spot in fourth.
More from category
All to play for as Uganda Cranes host Taifa Stars in exiled derby

Ronaldo's legendary international career continues with new world record

Kane passes Rooney as England's record top scorer
Recommended articles
All to play for as Uganda Cranes host Taifa Stars in exiled derby
Messi reaches 800 career goals
Ronaldo's legendary international career continues with new world record
Kane passes Rooney as England's record top scorer
Mangat to switch to Hyundai i20 R5 ahead of Pearl
Africa Cup of Nations qualifiers resume with two exciting draws