Mixed race parenting: When Tiktoker Angella Summer was accused of stealing her own baby
Ugandan social media personality Angela Summer Namubiru wears many hats. Besides her successful stints in social work, modeling, and dominating Tiktok and Youtube platforms, the 28 year old also belongs to a tightly-knit club of Ugandan moms with mixed-race babies.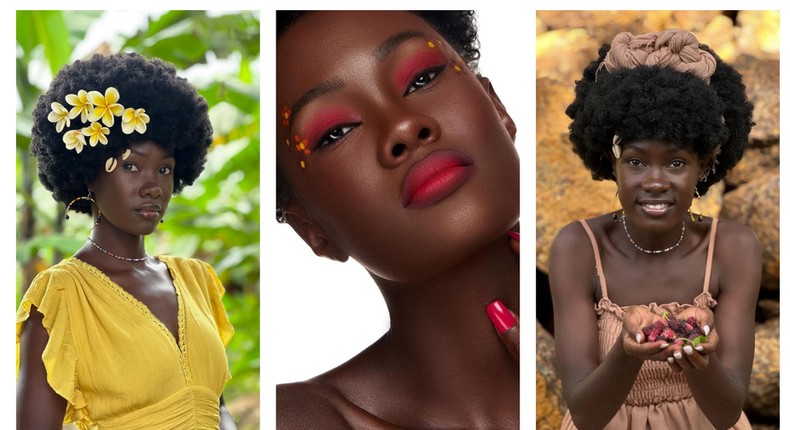 Namubiru narrates that she was forced to temporarily halt her studies in High School when she became pregnant. With support from her mother, she gave birth to a healthy baby.
The baby however, came out as a shock to many as it looked nothing like her.
"People felt sorry for me because they thought I had given birth to an albino. So, I had to tell them that the father was actually white," Namubiru told Ruth Kalibbala in an interview.
The years that followed as she raised her baby as a single mom became more challenging as people kept contrasting the child's light skin with her dark one.
In one instance, she recounts being confronted by women in a commuter taxi, who thought she had stolen the baby.
"I happened to be sitting next to an Indian man in the taxi, when my child started fussing; and because I don't like breastfeeding in public, passengers thought my baby belonged to the Indian," she recalls.
"When I told them it was my baby, the women didn't believe me. They demanded that I breast feed her to prove I was the mother. One of them went as far as accusing me of stealing the baby."
Namubiru says in the end she decided to raise her voice, threatening to have them arrested.
"I told one of them, 'if you continue bothering me I will get you arrested because you don't know if this child is mine or not. So they were able to calm down but I was ready to take them on."
The People's Choice Award winner says although she has now grown accustomed to this treatment, it did take a toll on her.
"I was really hurt because if it is your child and this person is insisting that you stole it, or inferring that you don't deserve to have it; you have to feel bad."
"People need to be more careful before they make that conclusion, it is important to not observe how the person relates to the child. If the child is stolen, you can easily notice."
Namubiru, who runs one of the biggest Tiktok accounts in Africa is also the co-founder of Blacare, an organisation that is both a physical and virtual village that works with children and women on social issues.
She says wants to use social media tools to change how Africans are viewed globally.
Eyewitness? Submit your stories now via social or:
Email: news@pulse.ug
Recommended articles
5 signs your boyfriend hates you and wants to break up
When women don't wash their bras often, these 5 things happen
Fally bows out on a high at Kampala edition of his double concert
Pallaso takes pride in visit to Murchison Falls, makes risky gesture
It's dangerous to rest your legs on a car's dashboard, here's why
Chef Keletso shines as foodies infuse whisky with divine culinary treats
Vinka goes shooting: 5 benefits of shooting at a gun range
How to prepare for an easy week at work/school
Try this stuffed green pepper recipe instead of baking