5 African traditional Easter dishes and how to prepare them
Some traditional African dishes are common during celebrations and Easter is no different as families whip out chef skills to prepare these five dishes.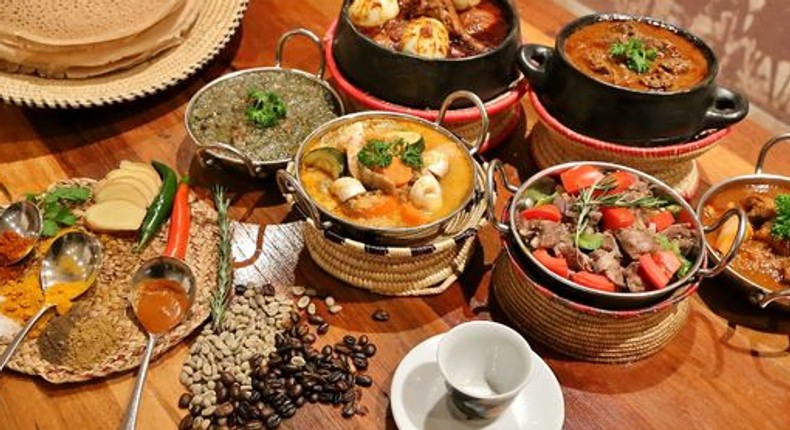 This spicy chicken stew is a staple of Ethiopian cuisine. It is often served during celebrations and that includes Easter.
Here's how you prepare the dish.
The whole process takes about two hours plus cooking.
2 pounds (800 grams) of chicken thighs and drumsticks
1 small lemon, juiced
6 tablespoons vegetable oil, clarified butter, ghee, or niter kibbeh, fragrant butter
6 chopped large red onions
2 tablespoons berbere spice mix, more or less to taste
1 (1-inch) piece) fresh ginger, peeled and finely chopped
2 to 3 finely chopped cloves of garlic
Salt
11 ounces (450 milliliters) of water, or chicken stock, add as needed
1 tablespoon garam masala
6 peeled large hard-boiled eggs
Marinate the chicken pieces in the lemon juice and refrigerate while you cook the onions.
Heat 2 tablespoons of the oil or butter in a pot over medium-low heat and add the onions.
Cook gently for an hour until they are reduced into a sweet paste.
Add the remaining 4 tablespoons of oil or butter.
Add the berbere spice, then the ginger and garlic, and fry until fragrant.
Add the chicken pieces to the pot along with the stock and 1 teaspoon salt.
Simmer on low heat for 40 minutes until the chicken is ready.
Sprinkle garam masala over the wat halfway through and continue cooking.
Add the boiled eggs and stir to coat completely.
Jollof rice
Pulse
This flavourful and colourful one-pot dish is made with rice, tomatoes, peppers, and spices.
Here's what you need to prepare jollof rice.
3 cored and chopped medium tomatoes
2 chopped medium red bell peppers
1 roughly chopped medium red onion
1/4 of a Scotch bonnet or habanero pepper
1 1/2 cups (355ml) of Nigerian stock
Blend tomatoes, red pepper, onion, Scotch bonnet, or habanero, and stock until they form a smooth puree.
Pour in a saucepan and boil over medium-high heat. Turn the heat to medium-low and cook for about 30 minutes.
Set aside to cool.
1/4 cup peanut, vegetable, or other neutral oil
1 thinly sliced medium red onion
3 dried bay leaves
2 teaspoons Caribbean/Jamaican-style curry powder
2 teaspoons dried thyme
Sea salt and freshly ground black or white pepper
2 tablespoons tomato paste
3 teaspoons unsalted butter
1 1/2 cups of the Nigerian stock
2 cups of rinsed converted long-grain rice or basmati
1 plum tomato halved then sliced thinly crosswise into half-moons
Heat 2 tablespoons of oil over medium heat until shimmering.
Add half the sliced onion along with the bay leaves, curry powder, dried thyme, a large pinch of salt, and a large pinch of black or white pepper.
Cook while stirring until the mixture is fragrant and the onions soften a bit.
Stir in tomato paste and 2 teaspoons of butter. Cook until the tomato paste darkens.
Add the stew base and cook on medium-low heat for about 15 minutes.
Stir in stock and bring to a boil over high heat.
Season with salt and pepper; if the curry flavor is lacking, you can add more to taste.
Add the rice and stir until it is evenly coated in sauce.
Cover the pot with a double piece of foil or parchment paper, crimped down around the edges to seal, and then the top with a lid.
Bring the heat to the lowest possible level and cook for 20 minutes. Open to stir and cover again for 15 minutes. Cook until the water is absorbed and the rice is well done.
Add sliced tomatoes and onions and the remaining butter and stir until the butter completely melts.
Set aside to cool for 10 minutes.
Bobotie
Pulse
This is a South-African dish that combines spiced ground beef, bread, and dried fruit, topped with a custard-like mixture, and baked until golden brown. It is typically served with yellow rice and chutney.
2 slices white bread
2 chopped onions
25g butter
2 crushed garlic cloves
1kg packet of lean minced beef
2 tbsp Madras curry paste
1 tsp dried mixed herbs
3 cloves
5 allspice berries
2 tbsp peach or mango chutney
3 tbsp sultana
6 bay leaves
For the topping
300ml full-cream milk
2 large eggs
Heat oven to 180C/fan 160C/gas.
Pour cold water over the bread and let it soak.
Fry the onions in the butter for 10 minutes.
Add the garlic and beef and stir well, crushing the mince into fine grains until it changes colour.
Add the curry paste, herbs, spices, chutney, sultanas and 2 of the bay leaves with 1 teaspoon of salt and plenty of ground black pepper.
Cover the pan and let cook for 10 minutes to a simmer.
Squeeze the water from the bread and beat into the meat mixture until well blended.
Pour into an ovenproof dish and press the mixture down well and smooth the top. You can make this one day ahead.
Beat the eggs and milk with seasoning and pour the blend over the meat. Add remaining bay leaves and bake for 40 minutes until the toppings begin to turn golden.
Mshikaki
Pulse
This is skewered and grilled beef or chicken marinated in a blend of spices and coconut milk. It is popular in East African countries such as Tanzania and Kenya.
Cubed beef
1/4 cup light brown sugar
1/4 teaspoon red chili pepper flakes
Black pepper
4-6 cocktail tomatoes halved
3-4 limes halved
4-6 whole green onions
Lemon flavoured ponzu
Green or red pepper (optional)
For the chili lime butter
1/2 cup salted butter 2 cubes, room temperature
2 tablespoons of lime zest about 2 medium limes
2 tablespoons of lime juice from 1 lime
1 1/2 teaspoons of chili powder
Mix butter, lime zest, lime juice, and chili in a bowl until well mixed.
Wrap the mixture and refrigerate for 1 hour or until firm.
Mix ponzu, brown sugar, red chili pepper flakes, and freshly ground black pepper in a large bowl.
Add the beef to the bowl and marinate for at least 30 minutes or up to 3 hours in the refrigerator.
Soak the wooden skewers for 30 minutes, so they don't burn on the grill.
Thread the beef slices onto wooden skewers
Add half of the Chile lime butter log to the beef marinade and set aside.
Oil the grill and bring it to heat. Place beef skewers on the grill along with tomato halves, lime halves, and green onions, green, yellow, or red peppers.
Cook the beef for about 2 minutes, on each side then turn.
Brush the beef with Chile lime butter marinade and turn again after about 2 minutes.
Remove beef from the grill, brush with more marinade and a squeeze of grilled limes if desired, and serve over fries and desired beverage.
Akara
Pulse
These deep-fried bean cakes are made from black-eyed peas, onions, and spices. They are a common breakfast or snack item in many West African countries and are often served during Easter celebrations.
Soak beans for about 30 minutes or until the skin swells.
Peel them with your hands or use a blender and pulse a couple of times to split the beans.
Blend the peeled beans with salt, peppers, crayfish, and bouillon powder or cube.
Whisk (with hands or an electric hand whisk) until the batter becomes airy and fluffy.
Stir the diced onions in the froth.
Preheat the oil and scoop the mixture by spoonfuls into the pan
Fry till golden brown.
You can eat it as is or serve it with a bowl of salad or spicy sauce.
Eyewitness? Submit your stories now via social or:
Email: news@pulse.ug
Recommended articles
5 signs your boyfriend hates you and wants to break up
When women don't wash their bras often, these 5 things happen
Fally bows out on a high at Kampala edition of his double concert
Pallaso takes pride in visit to Murchison Falls, makes risky gesture
It's dangerous to rest your legs on a car's dashboard, here's why
Chef Keletso shines as foodies infuse whisky with divine culinary treats
Vinka goes shooting: 5 benefits of shooting at a gun range
How to prepare for an easy week at work/school
Try this stuffed green pepper recipe instead of baking