How to make nail polish wrap stickers last longer
There's no questioning the appeal of nail polish wraps. Getting a stunning manicure within minutes from the comfort of your own home and at a smaller cost than you'd pay at a salon, is amazing. However, you may need to take better care of them to last longer and they are worth the minimal effort to preserve.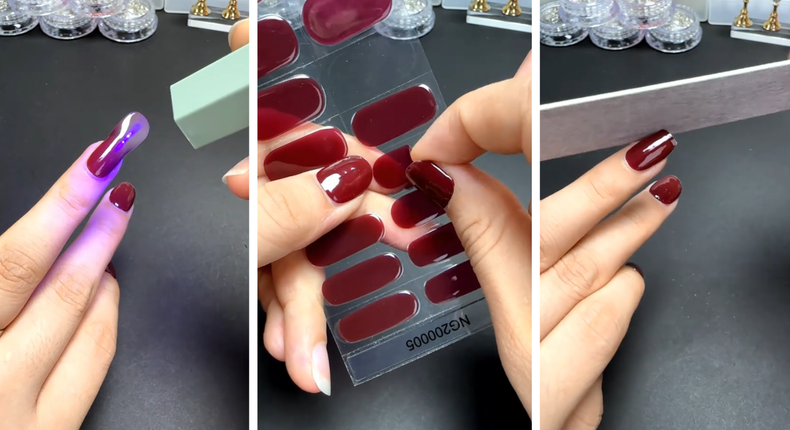 What are nail polish wraps
If you're just now discovering this nail care heaven-sent, get excited to meet your go-to manicure method. The wraps are the easiest way to add fun and flair to an otherwise mundane nail look.
You can save a lot of money by doing your nails at home yourself. However, painting them on your own is rarely easy and may end in disappointment.
Nail wraps are a game-changer!
You can paint your nails yourself or give yourself a gel manicure, and all you have to do is choose the size and design that fits your nails, peel them off the backing, and press them into place.
Done! There's your instant manicure.
How they are made
They are usually made with real nail polish, meaning you get all the shine and colour payoff that you love without any of the hassles of actually painting the designs on your nails or paying for expensive visits.
Nail wraps come in a variety of colours, designs, and styles - there's something for everyone! You can find ones that are sleek and classic or go for something fun and festive. You can find subtle designs or wraps that are fully sparkly and bedazzled. No matter what your style is, there's definitely a nail wrap out there to fit it.
Duration and application
Now if you're getting ready to take a chance on this idea to get a picture-perfect manicure yourself, you may be wondering just how long these nail wraps last.
In general, you can expect to get up to 10 days of use. But let's get you a more specific expectation for how long yours will last.
Even though these wraps are very inexpensive, costs can add up if you have to replace them too often. While the application of these wraps is as effortless as it gets, you still want to get as much use out of each wrap as possible.
The lifespan of your nail wrap will depend on a few different factors - most notably, the quality of the product you're using.
However, there are other factors at play too. For example, if you don't apply the product correctly, it will start to come off or deteriorate quicker. We'll touch on this a bit when we teach you how to make nail wraps last longer.
In general, though, you can expect the average nail sticker to give you 5-7 days of use. That's not very long, which is why finding the longest-lasting nail wraps becomes so important!
In fact, the best nail wraps look as stunning as the day they were applied after 10 days.
So, it's safe to say that gel wraps can last anywhere from one to two weeks. Of course, this is just an estimate, your specific mileage may vary. Nevertheless, you probably want to figure out how to make nail wraps last longer.
Keep reading for some of our top tips.
How to make nail wraps last longer
Now that you know how long nail wraps last in general, it's time to learn how to make yours last even longer! While we're going to share a bunch of tips with you down below to help you make the most of our nail wraps, we could really summarize all of this into just two tips:
With that being said, here's what you need to know:
Start with clean nails
Make sure your nails are clean and free of any oils or debris before applying your wrap. This will help the wrap adhere better and last longer. You can use a cotton swab dipped in nail polish remover to clean your nails if needed.
Don't forget the base coat
If you're using regular nail polish wraps, be sure to apply a base coat before applying the wrap. This will help protect your nails and also make the wrap last longer.
Apply pressure
After applying the wrap, use a nail file or your finger to apply pressure along the entire length of the wrap. This will help seal it onto your nail and prevent it from peeling up at the edges.
Trim off the excess
Be sure to trim away any excess wrap that's hanging over the edge of your nails. If you leave it, it will eventually catch on something and start to peel off.
Seal it with a topcoat
After the wrap is applied and trimmed, finish things off with a top coat. This will help protect your nails and also make the wrap last longer.
Be careful
Once you've got your nail wraps on, how can you ensure you get the most out of them? Well, be careful! The more you bump your hand and fingers into things - or dig through your pockets and purse - the more wear and tear you're putting your wraps through.
Eyewitness? Submit your stories now via social or:
Email: news@pulse.ug
Recommended articles
Preconception care: C-Care IHK's Dr. Nsubuga answers key questions
7 ways to stay friends with the opposite sex without catching feelings
Tactics con artists use before they scam you
3 reasons relationships that start in December may not last
5 things every young man in a relationship should know about women
5 tips to stop drinking alcohol
The truth about feminine wash and perfumes
7 things your belly button says about your health
Some common causes of coarse palms and how to soften them