7-step painless process to give away 'favourite' clothes
If the thought of losing one article of clothing gives you sleepless nights, here's the least painful way you can give your closet a make over.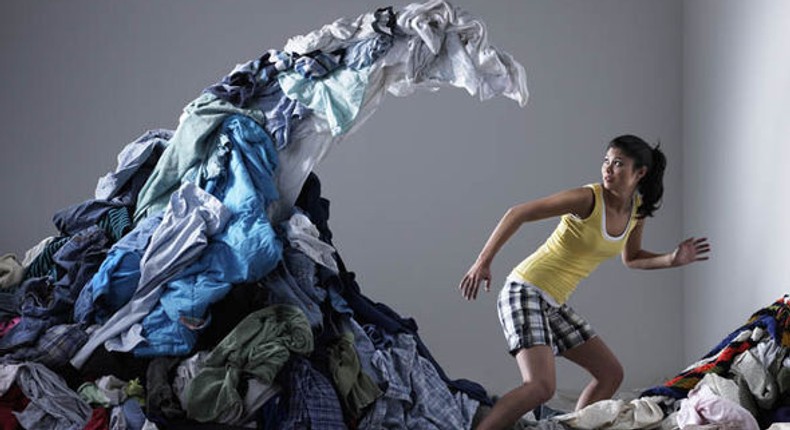 There are two things you need to know about revamping your closet.
The essentials.
Organisation.
Basically, you want to feel secure that what you are giving away is what you can honestly do without. Then you want to look at what you have decided to keep in a fresh way.
Here are the 20 essentials any closet must have.
(Apply article of clothing for respective of gender)
Maximum 4 long-sleeved shirts
Maximum 4 sweaters
Maximum 3 casual skirts or dresses, tops.
Maximum 2 professional/business outfits. A blazer to dress-up casual outfits
1 black dress
2 pairs of exercise sweatpants or quarter-leg pants
2 pairs of running shorts
1 pair of running shoes
1 pair of heels you can comfortably walk in
2 pairs of flats
2 pairs of sandals
Maximum 4 scarves of varying weights
Maximum 4 good bras
Week's worth of undergarments
1 bathrobe.
1 set of pajamas or lounging clothes
2 swimsuits
Maximum 3 pairs of jeans that you feel good in and make you look good.
Maximum 4 tank tops/vests
Maximum 5 short-sleeved shirts
Follow these steps to open up more room in your closet.
Make time for the process, preferably the weekend.
Step 1: Empty your closet on your bed
Take out everything and put it on your bed or your bedroom. Shoes, socks, jackets, umbrellas, everything.
Don't worry about cleaning or putting back together at this stage. As you sort through the other steps, it will all come together neat and nice.
Organise your hangers and make sure they match.
Step 2: Start with the easy ones
Once laid out, you will easily see the items you can and want to get rid of. Faded ones, the ones with dusty shoulders, the ones with mold. Put those in a box or polythene bag and get them out of the room.
You won't even fret about them in a day or two.
Step 3: Detachment
The clothes that hold good memories for you. If you have any pictures of yourself in these ones, keep the pictures but throw away the clothes. Especially the ones you wore like once in your life and are now like museum pieces. The ones that remind you of some accomplishment. Pack them and put them out.
Step4: The masterpieces
These are the most beautiful clothes you have. But they have a problem. It might be that they don't fit well, don't flatter you, have a colour you don't like, etc. You probably wore them once and just love seeing them in the closet before grabbing something else.
There's is someone who will enjoy wearing them, it's time for you to break up with them. It's them, not you.
Step 5: The ones that fit once in a while
These are called 'goal items'. You tell yourself you will do something in order to fit into them, like work out or bodybuild. Throw them out. They are terrible for your morale to do achieve any of those goals.
Step 6: Recent wear
Anything you have not worn in a suitable season or not worn for a while in a particular setting, throw out. Hangouts, work, the cold season, etc.
Step 7: Organising
Now start to put what you have left onto your matching hangers or sort and fold them.
Enjoy the added space and air.
Then get ready to repeat the process in six months.
Choose how you are going to get rid of the rejects.
Getting more space and new ideas for your closet is a process of elimination, not addition. Which makes it undesirable. But it is worthwhile once it is done.
Eyewitness? Submit your stories now via social or:
Email: news@pulse.ug
Recommended articles
How to check if someone is available for venting
How to define a relationship without asking 'what are we?'
The African all-female tribe where men are not allowed
6 weird things society accepts as normal
Lessons about cheating from lady who met her husband's side chic
How to deal with a deadbeat baby daddy situation
How to deal with your girlfriend's male bestie
The best way to brush your teeth to prevent mouth odour
How to handle hosting family on Easter for the first time