"You're going back to Luzira" - Kulthum, husband drag Bad Black to Police
Social media personality Shanita Namuyimbwa alias Bad Black could have once again talked herself into trouble as she's been dragged to police for making incendiary remarks about Dr Kulthum Nabunya and her husband Akram Gumisiriza.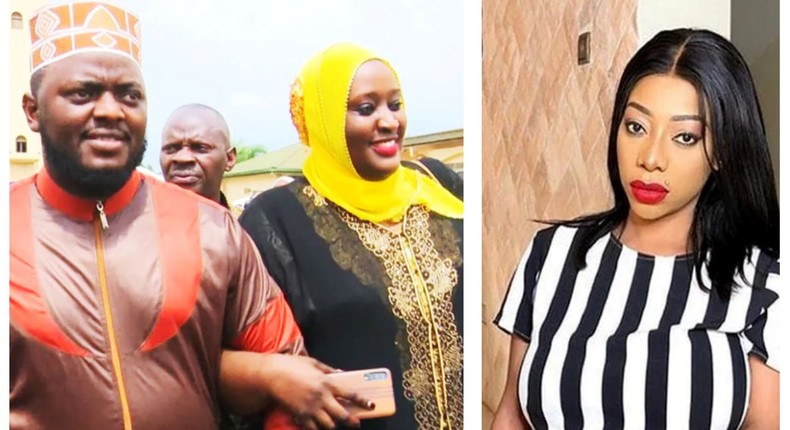 The couple jointly opened a file against Black on Saturday, June 3rd at Kampala Central Police Station.
In a series of TikTok streams, Black recently launched a verbal attack on Kulthum and her husband, in which she makes insulting commentary about their looks, their wealth and even sexual abilities.
The controversial socialite in one of the streams referred to Akram as a fat and disgraced gigolo, an opportunist and a cheat.
She also accused his wife of having been unfaithful to her late husband, Sheikh Nuhu Muzaata, and marrying Muhumuza "out of sexual starvation and desperation."
"You never loved the late Sheikh… a man who got you from the village, educated and took care of you," she charged. "Your husband is jobless, he has no address,and he's not even your size."
Speaking to reporters shortly after filing the criminal case at CPS, Kulthum and Gumisiriza said they were determined to get the socialite mother of three locked up.
"Bad Black had no reason to insult me like that because I don't attack people. I am an honorable woman; I do a lot of charity; a lot of people respect me," said Nabunya.
Kulthum says she was most hurt by Black's comments about her child whom the latter claimed was not fathered by the late Muzaata.
"I tried to respond to her in a video asking her to leave me alone, but she replied telling me that she is an ex-convict and that she is not scared. So we are about to find out if she really is above the law," said Mrs Nabunya.
The case file, Nabunya said, is expected to be sent out for sanctioning today Monday, June 5th, 2023.
According to Gumiziria, Black has already been on Police radder over her endless social media vitriol.
"The officer who is on this case had earlier arrested her at Old Kampala, but she pleaded and cried and they gave her the last chance," he said.
On Black's claims that Gumisiriza is currently cohabiting with another woman in Nakulabye, Gumisiriza said even if this was true, as a Muslim man he is allowed to marry multiple women and that this is not reason to be assaulted the way he was.
Eyewitness? Submit your stories now via social or:
Email: news@pulse.ug
Recommended articles
Angella Katatumba: How I met my ex-husband
Faridah Nakazibwe 'leaves NTV ' after 17 years
Kasita, Feffe Bussi brave tough questions on romance ahead of Dubai concert
Matatu Film Stage, a short movie celebration
List: Nyege Nyege rolls out stellar lineup of performers
Uganda's Sina Tsegazeab scoops prestigious award in Kenya
Cindy hails Bobi Wine, speaks out on big-three battle prospects
I graduated with a master's degree when I was 19 - Angella Katatumba
My granny found porn magazines under my pillow - Byg Kahuna on naughty childhood