Watching Rickman's Cinderella through Frank Gashumba's eyes
An-Known and Rickman Manrick released the video of their single Cinderella on April 8. Despite some controversial scenes, the video, in which Sheilah Gashumba features as a vixen, is doing well, racking up 163k-plus views since its release.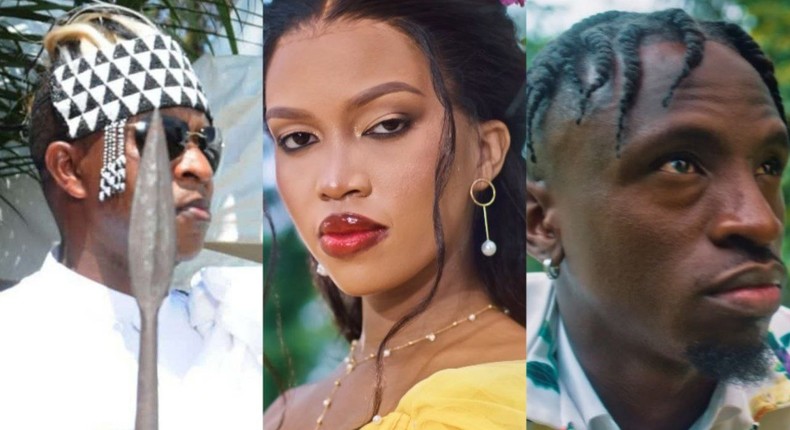 The song is inspired by a love theme, so in this piece, this reporter imagines what Gashumba felt watching the video, that's if he has.
In the video, both musicians have earrings and Rickman Manrick is wearing twisted hair.
"One day they found me at a restaurant in Nsambya, he was with that rascal and his father, his ears and nose were pierced, with hair that looked like Kony's [Joseph Kony is the founder of the Lord's Resistance Army (LRA)]. You bring such people to me, Gashumba? Even if I'm dead," he said.
Gashumba has also shown through his social commentary that he hinges more on conservativism, so it's highly unlikely that he would approve of the scenes that show Manrick and An-known wearing makeup.
There is also a verse in which Rickman sings: "I'm not a princess; I don't even have money. But I have love." [It's in Luganda, so this is a loose translation.]
"We are in an era of useless men. Most men are their women's askaris [escort]... There is nothing as bad as going out with a woman and you've not contributed anything to what she is wearing... That's not a boyfriend, he is just an askari accompanying you to the event," he has said.
He said: "If you have a man who cares about you and provides for you, I beseech you, after worshiping God and your parents, praise him... respect him because such men are hard to find. We've lots of ne'er-do-wells, fake masters... we no longer have men."
However, there are some scenes that Frank Gashumba may like. The song preaches respect for women. In the video, there's even a scene where both musicians kneel to give Sheilah flowers.
It also teaches men how to compliment women.
The video was directed by Marvin Musoke from Swangz Avenue.
Eyewitness? Submit your stories now via social or:
Email: news@pulse.ug
Recommended articles
Angella Katatumba: How I met my ex-husband
Faridah Nakazibwe 'leaves NTV ' after 17 years
Kasita, Feffe Bussi brave tough questions on romance ahead of Dubai concert
Matatu Film Stage, a short movie celebration
List: Nyege Nyege rolls out stellar lineup of performers
Uganda's Sina Tsegazeab scoops prestigious award in Kenya
Cindy hails Bobi Wine, speaks out on big-three battle prospects
I graduated with a master's degree when I was 19 - Angella Katatumba
My granny found porn magazines under my pillow - Byg Kahuna on naughty childhood