Video: Fifi Da Queen shows Dubai how a gifted Ugandan shakes NYASH
Fifi Da Queen is eating life with a big spoon.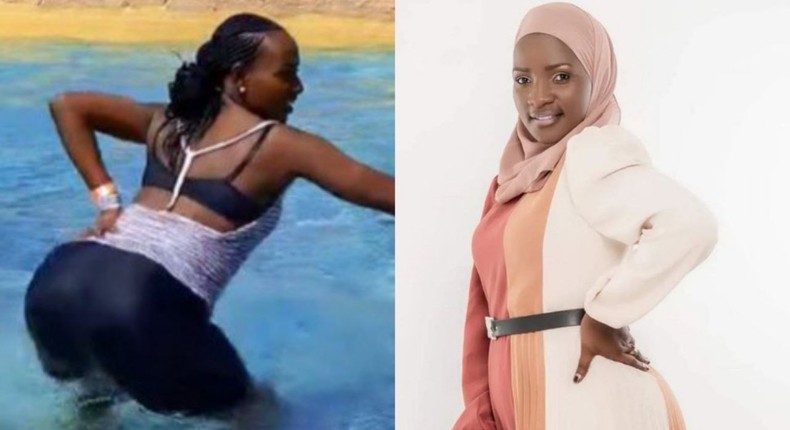 The media personality recently flew out of the country for a vacation.
She's been sharing a series of videos to keep her fans updated on social media.
In one of the videos filmed in Dubai, she's seen in a swimming pool dancing to Burna Boy's club banger titled Kilometre.
If you've listened to the jam, you must know it's one of Boy's most bouncy ballads.
And Queen showcased mad moves as she shook Nyash while dancing to it.
Queen, real name Phiona Nabitengero, is one of the most followed media personalities, because of her TV shows that centered around celebrity gossip and interviews with some of the top musicians.
She joined Bukedde TV in 2011 and her show was so popular until she left in 2020.
After leaving the Vision Group-owned TV station, Queen, who calls herself a feminist and an activist, launched a YouTube channel, which has since attracted over 29k subscribers and more than 1.9 million views.
The updates seem irregular though.
The mother of two is married to Fab Love, real name Abdallah Nsubuga.
She is also one of the most controversial figures in the media industry. She recently told slay queens who live the city girl lifestyle to beware of their bodies losing value any time soon.
She said: "At some point, you need to show results for your existence. It's not about mentioning hotel names, and lodges, that you boarded planes. Yes, you boarded them, but what did you achieve? Because at the end of the day, life will demand that.
"There is nowhere in life where your body count will count for something... No matter how beautiful you are, you need to use your time well, because beauty has an expiry date."
She went on: "The one who had a pointed boob; some of you are unlucky, they fall before you give birth... We who have pointed boobs grew up being told that we are cursed... Now I see some girls trying to make their boobs firm again, and I wonder why they were abusing us. So, time will come and life will ask you, what have you achieved?"
Eyewitness? Submit your stories now via social or:
Email: news@pulse.ug
Recommended articles
Video: Fans forcefully open gates at sold-out Alien Skin concert
Minister JC Muyingo reveals he's Kato Lubwama's elder brother
Kapa Cat once showed me her private pictures, called me to her room - Gravity
Abitex to Pallaso: Come to Alien Skin's concert if you want to sing for a huge crowd
Nsereko talks quitting music: 'My mom grabbed me from stage'
Nyege Nyege Festival clarifies distinction and warns against imitations
A Ka Dope Band's Francis Kasura Unveils 11 Song Debut Album
Sheebah Karungi attacked at Kato Lubwama's vigil
Bad Black proves she's mastered the diss game in this nonchalant apology to Kulthum, Akram
Ibrahimovic's glamorous career in numbers
PHOTOS: summer is here - Arsenal and Chelsea stars already enjoying the break
Pulse Sports' Uganda Premier League Team of the Season