Minister JC Muyingo reveals he's Kato Lubwama's elder brother
Minister of State for Higher Education John Chrysestom Muyingo has revealed that unbeknownst to many, he was the eldest brother among late Kato Lubwama's siblings.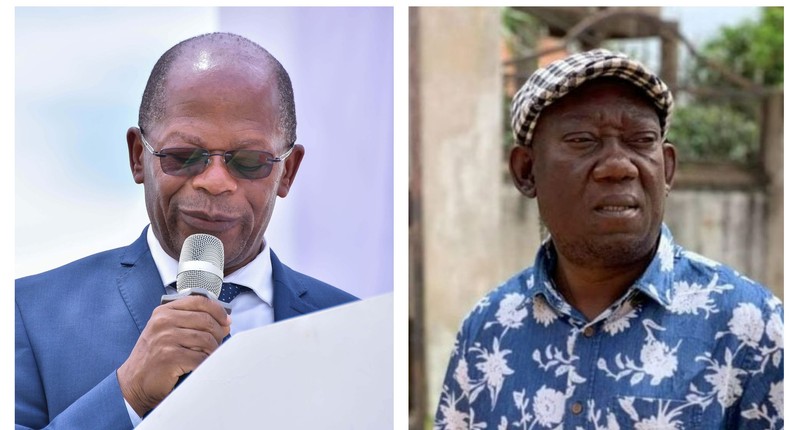 Minister Muyingo, 63, said this to mourners during the Thursday night vigil at Lubwama's home in Mutundwe.
The Minister revealed that their parents Nalongo and Salongo Lubwama gave birth to him first, followed by Richard Sserwanga, and then twins Kato and Isaac Wasswa. Their last born, Nabaggala Lubwama is currently in London.
"You can say now that I am the man of the house, because in the Buganda tradition when something like this happens, I as the elder brother has to step up and take charge," remarked the Minister.
Muyingo said of the siblings, Sserwanga took after his father's looks, while the late Kato took after his sense of humor.
"At our home, the gift of comedy was given to the late Kato, Richard and our late father Salongo Lubwama. God gave us this talent but Kato took it to the next level."
At the night vigil which was also graced by Buganda Prime Minister Charles Peter Mayiga, Muyingo thanked Buganda Kingdom for giving Lubwama an opportunity to shine at CBS Fm.
Meanwhile, the Minister pledged to support the family of Lubwama including the widow, Anne Namuwonge, who he praised for loving and being patient with the deceased.
"I thank you for looking after my little brother. I know that we are not a simple family but you managed us without any complaints. I promise you that we shall love you, and we shall be there for you. God had his reasons for taking our younger brother and leaving us behind. We shall look after you and your people."
Kato Lubwama passed away suddenly on Wednesday June 7th after developing a heart related complication. He will be laid to rest on Wednesday next week at his ancestral home in Nkozi.
Eyewitness? Submit your stories now via social or:
Email: news@pulse.ug
Recommended articles
How Naava got the name 'Grey'
My father kicked me out of home when I chose to become a DJ - Rasta Rob
Azawi dedicates new song to Nakulabye man who broke her heart
Meet your celeb: Who is Faridah Nakazibwe?
Afrigo Band stranded at airport in Turkey
Angella Katatumba: How I met my ex-husband
Faridah Nakazibwe 'leaves NTV ' after 17 years
Kasita, Feffe Bussi brave tough questions on romance ahead of Dubai concert
Matatu Film Stage, a short movie celebration