'Zero tolerance for violence' - Daniella breaks silence on Chameleone beating a Boda man
Daniella Atim, the wife of Jose Chameleone, appeared to criticise her husband after a video emerged Friday morning that Jose Chameleone had caned a Boda guy some months back.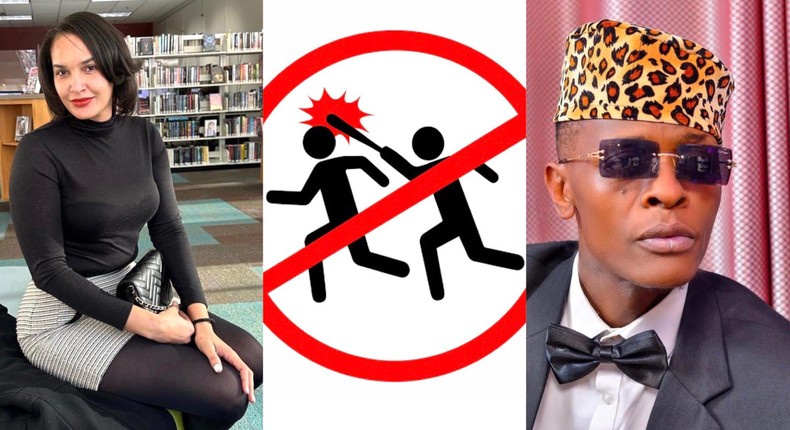 "Zero tolerance for violence," Atim posted Friday night, captioning an artwork that read: "Violence will not be tolerated."
In the comment section, someone said: "What happened to you... that's your husband?"
Atim responded: "Should I give him to you to marry him?"
The post, which was posted three hours ago, has so far generated over 100 comments and most of them seem to side with Atim, with some calling for boycotting the concert.
One commenter said: "I am a law student and look up to you because you're constantly fighting for justice… even when you are going against your family."
Atim responded: "...all the best, we want more of you in our country."
But some noted that Chameleone is a loved musician because Boda guys wouldn't have let him attack their colleague and get away with it.
"The way fellow Boda guys were looking on and yet they are always threatening to beat us when you are a mere commoner… I bowed to the legend that guy is liked. If he was another person, boda people would have killed him," a commenter wrote.
Musician Joseph Mayanjia, better known as Jose Chameleone, was filmed lashing a Boda Boda guy.
In the video, which emerged on social media Friday, the self-proclaimed public menace, who is holding a long stick, strikes the guy four times, before he (the Boda guy) is whisked away by someone.
It is alleged that the Boda guy knocked Chameleone's Range Rover. However, in the video someone is heard saying that the Boda man didn't hit the car.
Kampala Metropolitan Police (KMP) Spokesman Patrick Onyango and his deputy Luke Owoyesigyire said they were unaware of the incident.
After sharing the video, Owoyesigyire told this reporter via WhatsApp: "Am asking around whether the rider opened up a case."
This is not the first time Chameleone is involved in violent incidents and it is said that he always moves around with 'goons' which explains why the Boda guys that were around didn't attack him when he attacked one of their own.
Boda guys rarely let such incidents pass when you attack a person they work with, especially considering it was on the streets.
It is important to note that the Badilisha singer is set to hold a concert dubbed Ggwanga Mujje on February 10.
The Leone Island Music Empire founder hasn't held a concert in three years, so such incidents can either ruin or make it for him. But he has a history of getting away with such incidents.
As he celebrates 25 years in the music industry, Chameleone ended his 10-year contract with events promoter Balaam Barugahara in 2021 and hired Mariam Mutakubwa, known by many as Biggie, to promote the highly-anticipated show.
Eyewitness? Submit your stories now via social or:
Email: news@pulse.ug
Recommended articles
The Weeknd declared the most popular artist in the world
I used to send Brielle 60k weekly - Vanessa tears up as she exposes Bruno K
I once reported Ann Taylor to my father over washing clothes - SB4 Media
Video: Fabiola 'teaches' Sheebah how to move NYASH
The making of the Queen of Buganda: Let Nabagereka Sylvia Nagginda tell you
Anne Kansiime 'teases' MTN Uganda CEO: Watch their amazing conversation
7 Ugandans eyeing Shs377 million Voice Africa prize to be unveiled on Sunday
New 'Queen Charlotte: A Bridgerton Story' trailer shows a rocky love story
When Bebe Cool said he can't fast because he feels feverish at 2pm